Glendale, Ariz. — Not even close.
Florida - yes, Florida - owned the field it wasn't supposed to be on, embarrassing Heisman Trophy winner Troy Smith and No. 1 Ohio State, 41-14, on Monday night to run away with the college football national championship.
Chris Leak and Tim Tebow showed off coach Urban Meyer's twin quarterback system to perfection as the No. 2 Gators became the first Division I school to hold football and basketball titles at the same time.
"I'm not surprised at all. Nobody never gave us a chance at all," Florida receiver Dallas Baker said. "We came here with a chip on our shoulder and something to prove. Nobody gave us a chance, but finally we can throw up the No. 1."
Now, only one question remains: What about Boise State, the last undefeated team left standing?
The Broncos (13-0) stunned Oklahoma on the very same field in the Fiesta Bowl on New Year's Day, while Florida and the Buckeyes finished with identical 13-1 records.
Wisconsin and Louisville also had one loss, and that surely will renew calls for a playoff.
Ted Ginn Jr. returned the opening kickoff 93 yards for a touchdown, then it quickly fell apart for the Buckeyes. He hobbled off minutes later after being injured while celebrating the touchdown, and by the time he returned for the second half on crutches, Florida led, 34-14.
"Ohio State didn't get it done," Buckeyes coach Jim Tressel said.
Underdogs by a solid touchdown, Meyer had a word for the critics who demeaned the Gators.
"I'd like to thank all those people. Our pregame speech was easy," he said.
Maligned for never winning the big one, Leak completed 25 of 36 passes for 213 yards and a touchdown. The Rambo-like Tebow threw for one TD and powered into the end zone for another.
Troy Smith, meanwhile, joined a long list of Heisman Trophy quarterbacks - Jason White, Eric Crouch and Gino Torretta, among them - to fall apart in bowl games. He was just 4-for-14 with one interception and never showed off his elusive running.
"Not everything in life is going to go the exact way you want it," Smith said. "I don't have any regrets, though. I really don't. We came out and fought. We came up short.
"Sometimes you have great games and sometimes you don't," he said.
Defensive ends Derrick Harvey and Jarvis Moss made it a miserable night for Smith. Linebacker Earl Everett got into the act, too, running down Smith despite missing his helmet.
"Honestly, we've played a lot better teams than them," Moss said. "I could name four or five teams in the SEC that could probably compete with them and play the same type of game we did against them."
Florida won its second national title, adding to the one Heisman winner Danny Wuerffel brought home in 1996 under coach Steve Spurrier with a 52-20 romp over Florida State in the Sugar Bowl.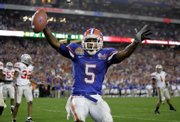 This time, the man in charge was the 42-year-old Meyer, once a .200 hitter in the low minors in Atlanta's farm system. Since then, he's made a rocket rise in the coaching ranks, topped off by a title in his second year at Florida.
The Bowl Championship Series added an extra game this year to determine a champion. Some fans were certain Michigan deserved to be here, that is until it got pounded by Southern California in the Rose Bowl.
This game had no name - perhaps now it might be the Meyer Bowl, at least for a year.
And back home in Gainesville, the Gators can raise another championship banner as they did after the basketball team beat UCLA in Indianapolis.
"How do I compare them? Both have confetti landing on my head," athletic director Jeremy Foley said. "I couldn't believe it in April, I can't believe it now. I can't believe I can talk about it without jinxing us. Obviously, things had to break our way to even get here."
Tressel's team, meanwhile, looked as if it belonged at the Holiday Bowl, because it took this night off. Given 51 days to prepare, the Buckeyes were confused from the get-go once Florida got the ball.
In the first football matchup between these schools - they've both played the sport for 100-plus years - the Gators emphatically stopped Ohio State's 19-game winning streak.
The Buckeyes beat a pair of No. 2 teams earlier in the season, defending champion Texas and Michigan. They were no match for Florida's speed, strategy and style.
The Buckeyes looked completely flummoxed by Florida's frenetic offense at the outset. Trying to match up with the Gators' shifting formations, they often jumped around at the line and still were out of position.
Leak gladly took advantage of the confusion, picking wide-open receivers at will and hitting his first nine passes. Criticized most of his career for a lack of fire, the guy with the soft, green eyes seemed real comfortable.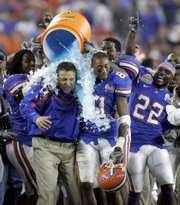 Meyer's gadgets made it easy pickins for the Gators. They came out in a five-wide set after Ginn's return and Leak hit Baker with a tying, 14-yard touchdown pass.
The next time they touched the ball, the Gators let Leak, Tebow and scatback Percy Harvin all take direct snaps from center. Harvin later tucked it under his right arm - the one with a lion tattoo - and powered for a 4-yard TD.
A flanker reverse by Andre Caldwell helped Florida move to a third-and-goal at the 2 as the first quarter ended. When the second period began, Meyer immediately reached into his bag of tricks.
Florida put three running backs directly behind Leak - a power-I-plus - and gave the ball to the last one. DeShawn Wynn scored on the first play of the quarter, plunging into the end zone right in front of the Gators' band, for a stunning 21-7 lead.
Ohio State returned to its roots and ran the ball. Antonio Pittman's 18-yard burst made it 21-14 with 13:32 left before halftime.
Undaunted, the Gators came back with something totally out of character, even for them - field goals.
Chris Hetland was only 4-for-13 on kicks this season, and his longest was 33 yards. But Meyer said he would trust him in this game, and Hetland made good, from 42 and 40 yards on the next two possessions.
Hetland's second kick came after Tressel showed a little early desperation, gambling on fourth-and-1 at his own 29 and saw Chris Wells stuffed.
The Buckeyes got the ball on their 20 with less than two minutes left before halftime and were determined to see a score before the break. They did - by Florida.
Moss sacked Smith and forced him to fumble, and the Gators took over at 5. Tebow ran twice up the middle, then faked a quarterback draw, rolled to the left and tossed a 1-yard TD pass to Caldwell.
At 34-14, fans on both sides were stunned as the teams ran to the locker rooms.
Copyright 2018 The Associated Press. All rights reserved. This material may not be published, broadcast, rewritten or redistributed. We strive to uphold our values for every story published.