Mark Roberts had hoped his five-month stint on the Pacific Crest Trail would put an end to his obsession with cross-country hikes.
It merely whetted his appetite instead.
Roberts, a 47-year-old mental-health therapist from Lawrence, didn't quite complete the PCT. He started his epic hike in early May at the trail's southern terminus in Campo, Mexico.
He made it to the Oregon/Washington border before recurring foot problems forced him off the trail and back to Lawrence in early September.
Thus, he traveled "only" about 1,850 miles.
And he can't wait to do something like it again.
"Someday, I'd really like to re-hike the Pacific Crest Trail again - along with some of the other long trails," Roberts said. "I was hoping this would get it out of my system and I'd stop obsessing about it. But this actually just helped me realize how special something like this is."
In fact, if Roberts has one regret about the whole experience, it's that he didn't quite make it to trail's end in Canada.
Thus, he plans to return to the PCT and finish the route, bit by bit.
"If I don't go back and finish it, it would just seem : undone," Roberts said. "And I was really looking forward to Washington. I want to see that part of it."
The ABCs of the PCT
The Pacific Crest Trail isn't the nation's only epic hike, but it well could be the crown jewel.
The 2,650-mile National Scenic Trail runs from Mexico to Canada, through California, Oregon and Washington.
It has the greatest elevation change of any of America's National Scenic Trails.
North America has seven different ecozones, and the PCT runs through six of them, including the high and low desert, old-growth forest and arctic-alpine country.
Roberts knew all this, and he knew about some of the country's other long trails, like the Appalachian and Continental Divide.
But he also figured his chance to hike one would have to wait until retirement.
"The last couple of years, I was thinking more and more about hiking the Pacific Coast Trail," Roberts said. "I noticed part of the trail was under threat of logging and mining and so forth, so I thought I'd better do it now while I had the chance to enjoy it before development encroached on the trail too much.
"And I think my wife got tired of me obsessing over it. She said, 'Why don't you go ahead and do it this year?'"
Thus blessed, Roberts did what any obsessed would-be cross-country hiker would do.
He quit his job.
According to plan
Roberts figured his employer, the Wyandot Center for Community Behavioral Healthcare in Kansas City, Kan., wouldn't be too keen to grant him a six-month hiking sabbatical, so he tendered his resignation.
Photo Gallery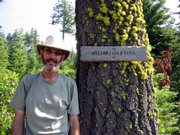 Scenes from Mark Roberts' journey
Just before his final day, Roberts bumped into the CEO, who asked what Roberts would do when he returned.
"I said I'd probably reapply for my old job," Roberts recalled. "I was told, 'Why don't we keep you're job open for you?' That was a big relief. I wasn't looking forward to looking for work when I got off the trail. My job was very nice to me."
As monumental as the hike itself was the planning beforehand.
When the PCT was nothing more than an abstract thing, Roberts had turned over in his head the beginnings of a plan to hike it. Faced with the actuality, he had to get serious.
He hit the Internet and read guidebooks, calculated how many miles a day he thought he could hike and picked the towns he'd stop in to resupply.
"That part of it was actually kind of fun," Roberts said. "I had an idea before. But about six months before I left, I had to really buckle down and do some real-life kind of planning."
On the trail
Roberts left May 2 to start his hike.
Before long, he encountered what he considered one of the trail's biggest challenges - dealing with the heat of the desert sections.
Roberts said about 700 miles of the PCT are Southern California deserts.
"The biggest challenge there is, you have to carry a lot of water between water sources," he said. "Water is a big thing, and dealing with the heat. I got tired of the heat, that and the dirt and filth of being in the desert."
The discomfort of the desert eventually gave way to the pristine beauty of the Sierra Nevada. It brought its own challenges, however.
"There's a lot of snow in the mountain passes, and the streams are full of water from snowmelt," Roberts said. "As a result, crossing streams can be kind of tricky and dangerous in parts, and the high mountain passes can be kind of tricky, too. That was the most challenging part with all the snow. They had record snow in the Sierras this year, so getting across the streams : they were very powerful. But the Sierras are just so spectacular - so pristine, so wild."
Roberts counts among the other highlights the "spectacular" wildlife areas of northern California, Oregon's Crater Lake, the waterfalls of Eagle Creek Trail and the volcanic rocks and mountains of northern Oregon.
"And I saw five bears on my trip," he said. "I'd never seen bears in the wild before, so that was exciting."
Another first-time sighting also left an impression.
During the planning stages, Roberts had read about "trail angels," fellow hikers who look out for those on the trail, providing food, water, shelter or transportation as needed.
"I had read about trail angels," Roberts said, "but to really experience that was really something, and I mean that in a positive way. It really reconfirms your faith in humanity."
End of the trail
Recurring foot problems hindered Roberts throughout the hike.
He had planned to cover about 20 miles a day, but blisters and foot and lower-leg infections slowed his progress, especially when they forced him into extended stays in the small off-trail towns along the way.
"On the trail, I pretty much kept to the plan," Roberts said. "But the foot problems threw me off a little bit.
He took a few short breaks to heal.
At one point, while he was in the Sierras, his lower leg was so inflamed, he flew home to spend a week recuperating.
Though he returned to the Pacific Crest Trail, the foot problems never truly went away, and when he reached the Washington border, Roberts had to abandon his quest.
"It felt like somebody had taken a baseball bat to the bottoms of my feet," Roberts said. "Plus, my dad was hospitalized right before I came off the trail. That was the low point."
Roberts returned and faced another challenge: returning to normal.
"That was really tricky," he said. "It was really strange not hiking every day after walking 20 miles a day. I felt restless. Going back to work was very strange. My coworkers were very nice, and they didn't put a lot on me, but I found it really challenging going back to work. And just driving : I hadn't driven in about five months. Driving a car in traffic was quite challenging, and getting used to all the people."
Roberts' fitness has waned a bit - "I was in the best shape I've ever been in," he said - his once-voracious appetite has returned to normal and his feet, which expanded nearly two sizes, have returned almost to their regular size.
And his mind wanders west.
"I was fearful at times," Roberts said. "I missed my home, my family. My feet were sore. I'd wake up in the middle of the night with sharp, stabbing pains. : But everybody around me was so supportive. Would I do it again? Absolutely. I'd highly recommend it to anyone."
Copyright 2018 The Lawrence Journal-World. All rights reserved. This material may not be published, broadcast, rewritten or redistributed. We strive to uphold our values for every story published.