Douglas County Senior Services is distributing small yellow stickers that could be a big help in an emergency.
"If you're unconscious or unable to communicate, it does the communicating for you," said Brenda Holmes, director of the Kansas Yellow Dot Program.
Participants fill out health information forms with information about any medical conditions, medications, allergies and important emergency contacts. The form goes in a yellow envelope that should be stored in a vehicle glove box.
Participants place a yellow sticker on their vehicle's rear window, in the lower left-hand corner.
In the event of an emergency, the sticker alerts emergency medical personnel that there is important medical information inside the glove box.
"All law enforcement and first responders across the state have been made aware of this," Holmes said.
The kit is free to Kansas residents age 55 and older.
The program is sponsored by the Kansas Department on Aging and Lyon County Retired and Senior Volunteer Program. It has spread across the state in recent years, with about 90,000 stickers distributed, Holmes said.
Lawrence resident Dot Beckner is among the first in Douglas County to participate. Beckner picked up her kit Wednesday.
Beckner isn't 55 yet, but she does have allergies and medical issues that she wants medical personnel to know about if she has a problem while she's in her vehicle.
In that past she's worn medical bracelets, but that got to be a pain, she said. She also has kept her medical information in a planner that she carries with her, but she wonders who would know to look for the information there.
Photo Gallery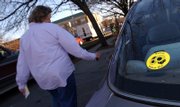 Yellow dots
"Once I saw the yellow dot program, I thought, 'Now, this will be great because they'll see that I have health issues, and they'll know to look for it,'" she said.
Mark Bradford, chief of Lawrence-Douglas County Fire & Medical, said there are two sides to the coin on such medical alert programs.
He recalled a program that placed red stickers on house windows in order to alert firefighters of the location of children. But, he said, sometimes the children would switch rooms or a family would move out altogether and the stickers would remain, thereby failing to work as intended.
"If you have it, keep it up to date, and try and keep it with you," Bradford said of the program.
He said emergency responders took the program seriously and wouldn't ignore the sticker if they saw one.
"I think it's a benefit, and we will of course look for the information," he said.
Copyright 2018 The Lawrence Journal-World. All rights reserved. This material may not be published, broadcast, rewritten or redistributed. We strive to uphold our values for every story published.