Eudora — Veritas Christian coach Doug Bennett was happy with his basketball team's defensive efforts against St. Mary's Academy on Saturday.
But his boys squad couldn't do anything on the offensive side of the ball in a 54-38 loss.
"I felt defensively we did pretty well, and that's what kept us in the game," Bennett said. "But I felt we played a lot better against them than we did earlier in the season, so I feel like we're making progress."
While Veritas had nine players score, their leading scorer was Michael Kay, who came off the bench to score eight points.
"We've yet to find that big scorer for us," Bennett said. "It doesn't always have to be the same guy every night, but we've got to have someone get a hot hand each night for us."
On the flip side of things, the Crusaders had two players score more than 20. The pair combined for 44 points.
The main reason for the Eagles' stagnanation in scoring is lack of motion when they run their offensive sets.
"We don't have very good movement with our guards or post players," Veritas' Taylor Zook said. "We need to move and set screens for each other and create passing lanes."
Early in the fourth quarter, the Eagles went on a 9-0 run to close to within three points. But St. Mary's came back with a 10-2 run of their own and kept Veritas at bay from there on out.
"We just kind of fell apart a little bit," Veritas' Isaiah Dover said. "We haven't been playing that great lately, but we stepped it up a bit this game and started playing well."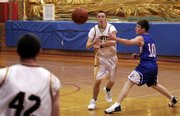 Another thing Veritas has been struggling with is its ability to control the glass. The Eagles were outrebounded, 37-17, and didn't have any players with double-digit rebounds.
"Fighting for position is something we haven't done real well," said Zook, whose five boards tied with Nathan Hammer for the most on the team. "We have to stay on the guy and box them out and keep pushing. Sometimes we'll get them, sometimes it won't go our way, but it'll give us a chance."
Bennett added, "It's a weakness for our team. You just continue to work on the fundamentals. We've worked on it a lot in practice and now we'll have some game film to see why we need to work on it some more.
"But the weak-side rebounding is probably hurting us the most. ... We're just not thinking or anticipating quick enough, and we're not getting into rebounding position."
Veritas has a busy week coming up for them. They'll be on the road to face Cair Paravel and Hyman Brand on Tuesday and Saturday with a home game against Olathe Christian sandwiched in between, on Friday.
Copyright 2017 The Lawrence Journal-World. All rights reserved. This material may not be published, broadcast, rewritten or redistributed. We strive to uphold our values for every story published.