Don't let the dog out," I was warned. But somehow, when I stepped outside on the front porch on New Year's Eve, my daughter Katy's little black dog scooted out between my legs.
I chased Kinsey for about a quarter of a mile before losing her in the darkness at Holcom Park.
Who would have guessed it could run so fast? And be so hard to find?
As we've searched for the better part of week, I've been wondering what digital devices we could have used to keep track of her.
HomeAgain database
Midge Grinstead, executive director of the Lawrence Humane Society, reports that the local animal shelter has been implanting microchips in pets for about a dozen years. It works with a company, HomeAgain Pet Recovery Service, in East Syracuse, N.Y.
The company provides chips, which are about the size of a grain of rice, that are injected with a needle under the skin between the pet's shoulder blades.
Each chip costs about $25 and contain a unique, 10-character combination of letters and numbers.
Once the chip is in place, you contact the HomeAgainID.com national Web site, and the company keeps your name and your pet's matching number on file for $17.50.
That way, if your pet is ever lost, then found, it's likely you can be reunited quickly. A typical scanning device - such as those used by most veterinarians, animal shelters and animal control officers - can read the number on the implanted chip, then match that number with your name, address and phone on the database.
Dial-a-dog
Another device that looked useful combines a cell phone with a GPS device to find your lost pet.
The PetsCell, which is made by PetsMobility, based in Scottsdale, Ariz., is expected to be available to consumers later this year for about $400, plus a monthly service charge.
The way the collar-like phone works is you dial a number for the PetCell and the device automatically answers. You then can talk to your pet through the PetCell, which has a microphone, a speaker and a battery with enough power to last seven days.
If your dog gets lost, there are two "Call owner" buttons on the collar: one for your home phone, and one for your mobile phone. Anyone finding your pet simply can push a button to talk to you, and you can make arrangements for a happy return.
Better yet: If you have a Web-enabled phone, the device allows you to track your dog's whereabouts via GPS through a call center that displays a map with your pet's location.
The device also has a "geo-fence" capability, where you can draw an imaginary line around your property line. If the dog crosses that line, PetsCell sends you a message and gives you GPS readings of where your pet has gone.
And it turns out that PetsMobility isn't alone. Olathe-based Garmin is set to unveil its Astro GPS Dog Tracking System tomorrow at the Consumer Electronics Show in Las Vegas.
The Astro system, designed specifically for sporting dogs and their owners, allows hunters to track up to 10 animals at once. The receiver shows the precise direction and distance to a dog - at a distance of up to five miles - and even indicates whether the animal is running, sitting, on point or otherwise. Battery life is estimated at 17 hours.
Lighting up
Our family's ongoing hunt - which kept Bonnie and her twin, Julie, out with a flashlight searching until 4 a.m. New Year's Day - could've used a boost from some more technology: a light on the dog's collar.
Turns out ItsADogsLight.com, a company based in Vancouver, British Columbia, Canada, sells LED lights of different colors, including rainbow-flashing strobes, that clip onto a collar. Cost is $5.95.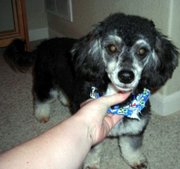 Later, I checked online and found a pet homing device called the Loc8tor for about $179. Time Magazine had named it one of the best inventions of 2006.
The Loc8tor consists of a handheld unit about the size of a cell phone and tags, which can be fixed to a valuable item, a pet or even a child.
In search mode, the tag beeps and flashes and the handheld device uses directions on a screen to guide you to the tagged object, pet or person, up to 600 feet away.
Scattered reports
About 9:30 Tuesday night, Julie called, saying she'd heard from a woman who had seen Kinsey at 3 p.m. Tuesday crossing traffic at 31st Street.
We cringed when we heard about Kinsey crossing heavy traffic.
"I don't know how she's surviving," my wife said.
If only we'd thought ahead and bought a homing device, or a flashing collar, we might not be worrying anymore at all.
Or if I had just not let the dog out.
Copyright 2018 The Lawrence Journal-World. All rights reserved. This material may not be published, broadcast, rewritten or redistributed. We strive to uphold our values for every story published.