College Station, Texas — Acie Law just wanted another chance.
After missing two free throws with 19 seconds left that would have secured No. 11 Texas A&M;'s win, Law got his chance and made two from the line with seven seconds to go to help the Aggies beat Kansas State, 69-65, on Saturday night.
"As soon as we took it out, I made a point to go get the ball because I wanted to redeem myself and make the shots," Law said. "My team needed them, and I was able to come through. I should have made those two I missed."
Texas A&M; led 66-63 before Akeem Wright drove through the lane for a layup that made it 66-65 with 7 seconds remaining. Law, who finished with 18 points, hit both foul shots to stretch the lead to three.
The Wildcats were without starter Bill Walker for most of the game after he injured his knee early in the first half. Huggins said he was unsure of the extent of his injury.
"I don't know how bad it is," Huggins said. "I can't tell you what I don't know."
The game was the Big 12 opener for both teams, and the win gave Texas A&M; (13-2) its best start since 1978-1979. It was also the Aggies' sixth straight victory overall and their 17th in a row at home.
"It wasn't very pretty, but anytime you win in the Big 12 it's awfully nice," Texas A&M; coach Billy Gillispie said. "We're lucky to be 1-0. It wasn't our best performance, but it was a winning performance."
Wright cut A&M;'s lead to 64-63 with a jumper with 1:14 remaining. That time, Dominique Kirk hit two free throws for the Aggies to make it 66-63.
Texas A&M; took the lead for good when Josh Carter hit a three-pointer with 3:57 left. He grabbed a rebound and made a layup on A&M;'s next possession to extend the lead to 64-61.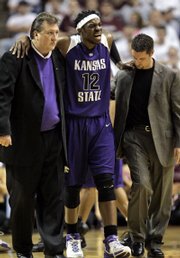 "He made a couple of real big plays," Gillispie said. "For us to be very good Josh has to do well."
Carter had 11 points and five assists, and Joseph Jones added 17 points and nine rebounds.
In his first season at Kansas State, Bob Huggins' streak of 11 straight wins in conference openers was broken with the loss. He didn't find any consolation in the game being close.
"You don't get style points," he said.
No. 12 Oklahoma St. 81, Baylor 77
Stillwater, Okla. - Mario Boggan overcame foul trouble to score 26 points and grab 13 rebounds - his fourth double-double of the season.
JamesOn Curry added 20 points for Oklahoma State (15-1), which has won four straight since its only loss, by two points to Tennessee on Dec. 18.
Baylor (10-4) had a four-game winning streak snapped. The Bears lost their conference opener for the fifth straight season and extended their losing streak against ranked teams to 24 games, a run that dates to a victory over Oklahoma State in 2003.
Texas Tech 68, Oklahoma 54
Lubbock, Texas - Martin Zeno scored 17 points as Texas Tech beat Oklahoma in the Big 12 opener for both teams.
Tech coach Bob Knight picked up win No. 881 five days after he became the winningest Division I men's coach.
Tech trailed briefly early but slowly took control. The Red Raiders went up by 21 points four times, the last when Alan Voskuil hit a jumper from just inside the three-point line with about three minutes remaining.
Texas 102, Colorado 78
Boulder, Colo. - Freshman Kevin Durant scored a career-high 37 points to go with 16 rebounds as Texas won its ninth straight Big 12 Conference opener over Colorado.
Durant was 5-for-7 on three-pointers as he outgunned Colorado's Richard Roby. Damion James, D.J. Augustin and A.J. Abrams had 15 points each for Texas (11-3, 1-0 Big 12).
Roby led Colorado (4-7, 0-1) with 30 points, three points short of his career high. Xavier Silas added 17 points for the Buffaloes, who lost their 10th consecutive conference opener.
Iowa St. 66, Missouri 65
Columbia, Mo. - Wesley Johnson scored on a tip-in with 1.4 seconds left to give Iowa State, down 16 points early in the second half, a victory over Missouri.
Marshall Brown had 19 points and Stefhon Hannah 17 for Missouri, which had won nine straight conference home openers. The Tigers (11-3, 0-1 Big 12) led 44-28 with 15:17 to go but the deficit was at five points or fewer most of the final five minutes.
Johnson's layup with 11.1 seconds left also pulled Iowa State (10-5, 1-0) to within one point.
Nebraska 82, W. Kentucky 71
Lincoln, Neb. - Sophomore Jamel White paced the Huskers with a season-high 23 points. Senior Charles Richardson Jr. added a career-high 16 points and junior Aleks Maric rounded out the Huskers in double figures with 16. Sophomore Kyle Marks tied a career-high with six points while pulling down a career-high four rebounds.
Women
Kansas State 48, No. 17 Texas A&M; 45
Manhattan, Kan. - Claire Coggins scored 20 points to become the 32nd Kansas State player with 1,000 career points, leading the Wildcats to a 48-45 upset of No. 17 Texas A&M; on Saturday.
The Aggies had a chance to win in the final seconds, but Coggins stole the ball and then hit one free throw to give the Wildcats a 48-45 lead with seven seconds left.
Missouri 66, Iowa State 56
Columbia, Mo. - EeTisha Riddle scored 21 points and had nine rebounds to lead Missouri.
The Tigers (13-2, 1-1 Big 12) led 31-27 at halftime, but Iowa State (13-2, 1-1) came back in the second half and led by four points with 7:31 left.
Still, Missouri was able to pull ahead, shooting 11-for-13 from the free-throw line in the second half, while the Cyclones made just 7-of-10 free throws.
No. 8 Oklahoma 77, Nebraska 69
Lincoln, Neb. - Courtney Paris shook off early foul trouble to score 19 points and Kendra Moore had a career-high 18 to rally Oklahoma past Nebraska.
Paris added 14 rebounds for her 41st straight double-double, and Oklahoma (12-1, 2-0 Big 12) won its 21st straight conference game and 15th consecutive away from Norman, Okla.
Texas Tech 75, Oklahoma State 49
Lubbock, Texas - Alesha Robertson scored a game-high 18 points and freshman Raquel Christian added 13 points off the bench to lead Texas Tech over Oklahoma State.
Tech (10-6, 1-1 Big 12), up 15 at halftime, allowed the Cowgirls to cut the deficit to 37-30 three minutes into the second half. But from that point the Lady Raiders, powered by 10 points from Christian and nine from Chesley Dabbs, outscored Oklahoma State 38-19 to close out the game.
Copyright 2018 The Associated Press. All rights reserved. This material may not be published, broadcast, rewritten or redistributed. We strive to uphold our values for every story published.