-->
A "strong majority" of registered Kansas voters - some 56 percent - want to see casino gambling expanded in the state.
That's according to a survey released this week by an Oklahoma-based political polling company for a group trying to promote a destination casino in southeast Kansas.
"It is clear from our reading of the survey data that Kansans are more than ready for their state to compete with casinos in neighboring states and expand their state's entry into gaming," said Pat McFerron, director of survey research for Cole Hargrave Snodgrass & Associates Inc.
The firm conducted the survey in mid-November for Kansans for Economic Growth, which is promoting a resort-style casino at Galena near the Oklahoma and Missouri borders.
Allowing such a casino would mean a change in Kansas law, which restricts gambling to playing the Kansas Lottery, pari-mutuel betting at horse and dog tracks or playing charitable bingo.
Kansans can gamble at casinos in four American Indian reservations, but the state gets no tax revenue from them.
The Legislature considered a bill last year that would have allowed state-run, resort-type casinos in Kansas City, Kan., and southeast Kansas and also 5,000 slot machines at pari-mutuel race tracks in Frontenac, Kansas City, Wichita and Dodge City.
That bill, which failed in the Senate, would have raised about $150 million a year for the state, according to its supporters.
The polling firm's survey of 500 registered voters in Kansas showed that when voters were initially asked if they wanted to allow state-operated casino gambling, 46 percent supported it, 39 percent opposed it and 15 percent were undecided, McFerron said.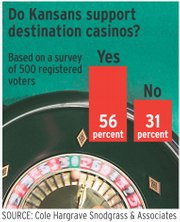 However, when respondents were told that Kansas is losing millions of dollars to casinos in Missouri and Oklahoma, expanded gambling in Kansas received more support, he said.
"Once you tell them money is going out of state, it changed 56 to 31 (in support)," McFerron said.
The margin of error in the report was plus or minus 4.3 percent.
Senate Minority Leader Anthony Hensley, D-Topeka, said he hopes to revive last year's gambling bill.
Hensley said he wants the revenue it would raise to be earmarked for the $727 million in deferred maintenance projects needed at the state's universities, community colleges and vocational schools.
Hensley said the bill may have more support in the Legislature this year.
Following the fall elections, there might be as many as 10 more votes for it in the House as legislators who opposed expanded gambling either retired or were defeated, he said.
"I've always thought we were fairly close (in the Senate)," Hensley said. Last year, a bill failed in the Senate on a vote of 16 to 20, with four members passing.
Sen. Chris Steineger, D-Kansas City, said he will be part of a coalition seeking expanded gambling. Steineger said demand for gambling in Kansas would support major resort-style casinos in Wyandotte County, Wichita and Southeast Kansas.
State Sen. Roger Pine discusses his gambling concerns
Missouri, Oklahoma and Kansas' own American Indian casinos are taking about $500 million of potential tax revenue from Kansans, Steineger said.
"It would easily pay for all the needs of the Board of Regents for building maintenance in two or three years," he said.
Two state senators from Lawrence say they'll have to see the right proposal before they would vote to expand gambling because of the social problem gambling brings.
"I have a hard time thinking gambling is a positive form of economic development," said Sen. Roger Pine, R-Lawrence. "I don't know that the funds that you receive offset the problems you inherit with that."
Pine said if he were to vote for a gambling bill, it would have to be severely limited, such as allowing a destination casino near the state's border, where people are crossing over into another state and gambling.
Sen. Marci Francisco, D-Lawrence, said she would have to look closely at any new proposals.
Past proposals have included too many slot machines at the state's pari-mutuel race tracks - more than exist now at the riverboat casinos in Kansas City, Mo., Francisco said.
Copyright 2018 The Lawrence Journal-World. All rights reserved. This material may not be published, broadcast, rewritten or redistributed. We strive to uphold our values for every story published.