Washington — Sen. Dick Durbin had a new bounce in his step last week as he navigated the Senate corridors, going from one Democratic swearing-in celebration to another.
Across the Capitol, Rep. William Lacy Clay Jr., grinned as he contemplated his new-found clout.
"I'm looking forward ... to swinging the gavel," Clay said, anticipating a subcommittee chairmanship that would give him that opportunity.
Both have pined for this moment, when Democrats would wield a majority in Congress. But even as they were savoring their victory, Democrats began to face the reality of governing.
They made big promises before the November election, vowing to clean up Washington, restore civility, and chart a new course on everything from pocketbook issues to the war in Iraq. How much they can actually deliver remains to be seen.
As newly elected Sen. Claire McCaskill, D-Mo., put it: "The euphoria of winning will wear off quickly and the frustration of getting something done will be front and center."
House Democrats started out of the gate last week with a bang, passing an ethics reform bill that bars lawmakers from accepting meals and gifts from lobbyists, prohibits the use of corporate jets, and requires better disclosure of pet projects put into spending bills.
This week, they will turn to a full plate of meaty items, including a minimum wage hike, enacting recommendations from the Sept. 11 commission, and expanding federal funding for stem cell research - all part of the House Democrats' promise for an initial 100-hour legislative blitz.
But it's unclear how many of those bills will actually become law.
"Expectations are high, and the reality of the politics is not so good," said Julian Zelizer, a historian at Boston University.
Rep. Todd Akin, R-Mo., noted that no matter how much lawmakers truly want to cooperate, they will inevitably be pulled in different directions by their own party constituencies.
"People in general want to work together and be cooperative," Akin said. "But the country as a whole is quite separated."
Then there are the more concrete obstacles of a system designed to provide checks-and-balances.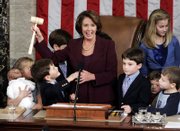 "Governing is very difficult. The Democrats are going to find that out," said Rep. John Shimkus, R-Ill., who has known only a Republican majority during his 10 years in the House.
Although the Democrats' sizable House majority and iron-clad rules will allow Speaker Nancy Pelosi, D-Calif., to produce a rapid-fire procession of bills, they're likely to get gummed up in the Senate, where the Democrats have a one-seat margin and one senator can put the brakes on a bill. At the end of the line is a veto pen wielded by President George W. Bush.
Thomas Mann, a congressional expert at the liberal Brookings Institution, said there's at least one initial positive development from the new Congress: Pledges for a five-day workweek.
Under Republican rule, especially in the House, the first votes were typically held after 6 p.m. on Tuesday and the last votes came Thursday afternoon.
"Members were spending less and less time in Washington," Mann said at a panel discussion last week on the new Congress. There was little deliberation and instead GOP leaders were "deciding in advance what to do and then ramming it through."
Mann said he hopes the new Democratic leadership will at least lead to more thorough debate.
Some issues will be a minefield even if both parties want to achieve success, such as the Democrats' promise to reinstate budget rules that require tax cuts or increased spending to be paid for by other offsets.
"That puts Democrats in a serious box," said Alice Rivlin, who served as budget director in the Clinton administration. "They are going to have to figure out how to pay for things" at a time when domestic and war spending has spiraled.
Perhaps no issue will test the willingness of Congress to cooperate more than the war in Iraq.
"That's the 800-pound gorilla in the room," said Bruce Riedel, a Brookings scholar who also spoke at last week's panel. "We can see a major clash coming" between the president and Congress over the war, said Riedel, who has served in Democratic and Republican administrations.
The president is set to outline a new strategy for Iraq this week, and lawmakers are already girding for battle, particularly if Bush calls for a surge of U.S. troops.
Such a move "could poison efforts across the board," said Mann.
Several Republicans are also unhappy with the prospect of sending more troops to Iraq.
Many want to distance themselves from the war before the next election, Zelizer said, so there may be more possibility for compromise on Iraq - at least within Congress - than on other issues.
"They realize that if Iraq is where it is today in 2008, they're in trouble," he said. "They have much more of an incentive than the White House to do something dramatic," such as setting a timetable for withdrawal.
Copyright 2018 The Lawrence Journal-World. All rights reserved. This material may not be published, broadcast, rewritten or redistributed. We strive to uphold our values for every story published.