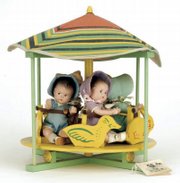 Dolls have been one of the top collectibles in the United States since the 1930s. Collectors pay very high prices for 19th-century dolls, especially large and well-dressed European dolls. But the supply is limited, and many younger collectors search for dolls made in the past 75 years. Madame Alexander and Nancy Ann Storybook dolls, plus dolls like Barbie and Chatty Cathy, can still be found in Grandma's attic and for reasonable prices at tag sales. When the Mary Merritt Museum in Douglassville, Pa., closed in 2005, collectors were excited to learn that all of the 3,500 dolls, the dollhouses and the doll rooms would be auctioned. Amazing prices were realized for the dollhouses - the highest price was $225,500 - and the 19th-century dolls also sold well, some for more than $40,000. But the more recent dolls also were popular. One unusual set of dolls was made by Madame Alexander, a company that is still in business. The five famous Dionne quintuplets, obviously all exactly alike, are riding on a merry-go-round with a striped awning top. The real quintuplets, born in 1934, were worldwide celebrities, and doll-makers had sold more than 10 different Dionne doll sets by 1936. The Madame Alexander set with the merry-go-round auctioned for more than $4,000.
Q: We have a dining-room set made by the Reaser Furniture Manufacturing Co. of Gettysburg, Pa. Can you give me any information on this company?
A: Reaser Furniture Manufacturing Co. was founded in 1907 when Clayton S. Reaser purchased a 5-year-old furniture company named Gettysburg Manufacturing Co. Reaser manufactured oak and mahogany tables, dressers and buffets in several styles into the 1950s, although its name might have changed by then to the Gettysburg Furniture Co.
Q: Back in the late 1940s when I was visiting an amusement park outside of Cleveland, I made a recording of myself singing. I was about 16 at the time. I still have the small vinyl record. Can I safely play it on a record player? Do I need a particular type of needle?
A: It is likely your record is a 78 rpm recording. You don't need a special needle. You just need a record player that will play at that speed.
Q: I would like information on a hand-painted china dish with the Handel logo and the number 4083D on the back. The scene on the plate is of hunting dogs in a field. It's signed by "Loehner." I thought Handel made glass lampshades.
Current prices
Current prices are recorded from antiques shows, flea markets, sales and auctions throughout the United States. Prices vary in different locations because of local economic conditions.
¢ Postcard titled "Boston, Old State House," wagons, people, streetlights, building, copyright 1905, Metropolitan News Co., $6.
¢ Stoneware water cooler, blue and gray, black rubber spout with lid, c. 1940, 2 gallons, $50.
¢ Olivetti-Underwood Studio 44 typewriter, portable, with case, red and black typeface, 1950s, $85.
¢ Tom Corbett Space Cadet two-way phone, original box with directions, c. 1951, 8 inches, $120.
¢ Little Orphan Annie and Sandy child's change purse, pink vinyl, gold metal hinged snap closure, picture of Annie and Sandy, 3 1/2-by-2 1/2 inches, $155.
¢ Veterinarian's bleeder cup, fitted birch case, c. 1870, $175.
¢ Kay Finch figurines, Mr. and Mrs. Bird, 1950s, male is 4 1/2 inches, female is 3 inches, $170.
¢ Armand Marseilles doll, Queen Louise of Germany, bisque head, green sleep eyes, open mouth, human-hair wig, 22 inches, $185.
¢ Orrefors cordials, Coronation pattern, faceted stems contain a teardrop, 2 5/8 inches, set of six, $325.
¢ L. & J.G. Stickley coffee table, nine oak spindles, rectangular top, supports, lower shelf, 17-by-48-by-22 inches, $475
A: Handel and Co. is certainly best-known for its art-glass lampshades. But artists at the company, founded in Meriden, Conn., in 1885, also decorated ceramic and opal glass giftwares, including vases, humidors and dishes. Most of the wares not related to smoking were decorated by Handel artists but were not manufactured at the Handel factory. The wares were blanks (unpainted, undecorated pieces) commissioned from other suppliers. The 4083D is a factory design number. Gustave Loehner was one of several known decorators who worked at Handel. Your dish, depending on its condition, could sell for several hundred dollars.
Q: I was given a set of pottery I would like to identify. The set includes a 14-inch pitcher and four matching tankards, each about 5 inches tall. They're decorated on one side with a picture of a friar holding up a drink and on the other with a pink rose. All of the pieces are marked with the outline of a buffalo and the words "Buffalo Pottery."
A: Your drinking set, which originally had six small tankards, was made by the Buffalo Pottery Co. of Buffalo, N.Y. The company, still in business today as Buffalo China Inc., was founded in 1901 by the Larkin Soap Co. to make pottery used as premiums for customers who bought Larkin soap. Your set, decorated with decal designs, was made either between 1905 and 1908 or in the 1930s. The earlier sets were semivitrious (more like earthenware) with overglaze decoration. The 1930s sets were made of vitrified china (glasslike and shiny) in several colors. Earlier sets are more valuable.
Q: My old bottle is embossed "J.A. Blaffer & Co., New Orleans, La." It looks blue, but held up to the light it appears to be amber. Any idea what this might be worth?
A: J.A. Blaffer & Co. was in business in New Orleans in the mid- to late 1800s. Your bottle is probably an antique soda bottle once sold at Blaffer's store. Prices for these old bottles depend on their condition. They sell for $50 to more than $330.
Tip: If you store a quilt or other fabric, roll it in a used, washed, well-rinsed white sheet and put it in an acid-free box.
¢
The Kovels answer as many questions as possible through the column. By sending a letter with a question, you give full permission for use in the column or any other Kovel forum. Names and addresses will not be published. We cannot guarantee the return of any photograph, but if a stamped envelope is included, we will try. The volume of mail makes personal answers or appraisals impossible. Write to Kovels, (Lawrence Journal-World), King Features Syndicate, 300 W. 57th St., 15th Floor, New York, NY 10019.
Copyright 2018 The Lawrence Journal-World. All rights reserved. This material may not be published, broadcast, rewritten or redistributed. We strive to uphold our values for every story published.