EUGENE, ORE. — In 1974, Ernie Kent played for an Oregon team that upset No. 1 UCLA.
Thirty-three years later, Kent sobbed when his Ducks again knocked off the top-ranked Bruins.
"This is a together basketball team," the Oregon coach said after the 16th-ranked Ducks handed UCLA its first loss of the season, 68-66 on Saturday. "Their spirit is unbelievable."
Aaron Brooks scored 25 points, including the game-winning jumper with 13 seconds left for Oregon (14-1, 2-1 Pac-10). That was the Ducks' only field goal over the final 7 minutes.
"It just shows that we can play with anybody, regardless of who we played at the beginning of the year," Brooks said. "People talked about our schedule, but we got to put the system in, and the system's working, and it will work against anybody if we play hard."
Darren Collison hit a three-pointer to bring the Bruins (14-1, 3-1) into a 66-66 tie. Brooks, who had 31 points on Thursday night in the 84-82 loss to Southern California, the Ducks' first this season, hit the baseline jumper to give Oregon the lead.
UCLA worked the ball around over the final seconds and instead of going toward the basket for a chance at tying it, Josh Shipp's three-point attempt at the buzzer was short, setting off a celebration on McArthur Court.
UCLA coach Ben Howland said he was concerned because Collison, the point guard, had four fouls, and top-scorer Arron Afflalo had three, meaning the Bruins could have had issues if the game went to overtime.
"The last play of the game was really my fault. I wanted to go for the win," Howland said. "I thought we would be able to penetrate and kick out for a three, and it wasn't there. We were really tentative and did not get a good shot at the end of the game."
"I actually turned my back on him because I thought Collison was going to shoot it, and it went back out to Shipp and I just had to play good defense," Luenen said. "I knew the clock was running down and he had to put something up pretty quick."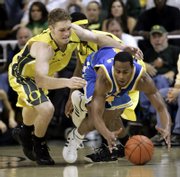 Shipp and Afflalo both finished with 14 points for the Bruins, who trailed 40-30 at halftime, while Collison had 11.
The last time the Bruins lost was to Florida in the national championship game.
"I never thought I'd feel like this again in my entire career here," Afflalo said. "I truly thought this team couldn't be beat. The way we played and the type of heart we play with, and the type of leadership we have on this team - I wouldn't say we're invincible (but) I didn't think we could be beat.
"This is probably my worst loss ever."
No. 3 Florida 67, Georgia 51
Gainesville, Fla. - Corey Brewer had 19 points and 10 rebounds to lead Florida in the Southeastern Conference opener for both teams.
Brewer's jumper with about 5:30 left in the game gave Florida (14-2) a 55-44 lead.
It was Florida's seventh straight win.
No. 4 Wisconsin 68, Minnesota 45
Madison, Wis. - Alando Tucker scored 14 points to help Wisconsin.
The Badgers (15-1, 1-0) recovered from a slow start to take a 17-point lead at halftime, then held the Golden Gophers scoreless for the first 61â2 minutes of the second half.
Virginia Tech 69, No. 5 Duke 67, OT
Durham, N.C. - Jamon Gordon's basket with 31 seconds left in overtime gave Virginia Tech the lead, and Deron Washington blocked Greg Paulus' three-point shot as time expired.
The Hokies (11-4, 1-0 Atlantic Coast Conference) trailed 67-66 when they worked the ball to Gordon, who drove to the basket and scored for a 68-67 lead.
No. 6 Ohio St. 62, Illinois 44
Champaign, Ill. - Daequan Cook scored 13 points to lead Ohio State.
Jamar Butler had 12 points and Ron Lewis added 10, while 7-foot freshman Greg Oden finished with seven points and 15 rebounds.
Arkansas 88, No. 8 Alabama 61
Fayetteville, Ark. - Patrick Beverley, Gary Ervin and Sonny Weems scored 18 points each for Arkansas, which raced to a 25-point first-half lead.
The Razorbacks (12-3, 1-0 Southeastern Conference) scored the game's first 14 points. They finished with 10 blocked shots, including three by 7-footer Steven Hill.
No. 13 Butler 73, Wright St. 42
Indianapolis - A.J. Graves scored 19 points and stretched his streak of consecutive free throws made to 52 in leading Butler.
The Bulldogs (14-1, 3-0 Horizon League), off to the school's best start after the first 15 games of a season, took control with a 16-point run in the first half.
Georgetown 66, No. 17 Notre Dame 48
Washington - Roy Hibbert scored 18 points on 8-for-9 shooting, and Georgetown won its seventh straight game.
The Hoyas (11-3, 1-0 Big East) took an 18-2 lead in the opening minutes. They shot 57 percent to end a 12-game winning streak by the Fighting Irish (13-2, 1-1), Notre Dame's longest since 1973-74.
Russell Carter scored 12 points to lead the Irish.
No. 20 Air Force 56, UNLV 50
Air Force Academy, Colo. - Nick Welch, Matt McCraw and Dan Nwalele all scored 13 points to lead Air Force to its 11th straight win.
Wendell White had 20 points for the Runnin' Rebels (14-3, 1-1 Mountain West), who had a 10-game winning streak snapped.
No. 23 Clemson 75, Georgia Tech 74
Clemson, S.C. - James Mays had 16 points, including the game-winning layup with 2.2 seconds to go, and Clemson became Division I's only unbeaten team.
The best start in 20 years for the Tigers (16-0) was in serious trouble when Javaris Crittenton scored with 6.5 seconds left to put Georgia Tech ahead 74-73.
No. 21 Nevada 81, Idaho 55
Reno, Nev. - Marcelus Kemp scored 22 points and Nick Fazekas added 19 points and 11 rebounds to lead No. 21 Nevada over Idaho.
Kemp made 8-of-13 from the field and Fazekas 7-of-8 for the defending Western Athletic Conference champion Wolf Pack (13-1, 1-0).
No. 25 West Virginia 73, St. John's 46
Morgantown, W.Va. - Darris Nichols scored a career-high 20 points and West Virginia opened the Big East with a 3-0 record for the second time ever.
Frank Young added 12 points and Joe Alexander had 10 as the Mountaineers (13-1) won their eighth straight.
No. 24 Washington 64, Arizona State 53
Seattle - Ryan Appleby made six three-pointers and finished with 20 points to lead No. 24 Washington past Arizona State.
Washington (11-4, 1-3), a preseason contender for the Pac-10 title, was one of three teams without a victory in the league entering the game. The Huskies lost their first three Pac-10 games to Southern California, UCLA and Arizona.
No. 14 LSU 66, No. 18 Connecticut 49
Baton Rouge, La. - Glen Davis and Tasmin Mitchell each scored 16 points as No. 14 LSU overcame a sloppy start to defeat No. 18 Connecticut.
UConn (12-2), which starts all underclassmen, remained winless on the road because of 12 turnovers in the second half and an inability to hit from outside down the stretch.
LSU shot 40.4 percent, fighting for timely offensive rebounds that led to second-chance points and prevented UConn from making a late run.
Washington State 77, No. 7 Arizona 73, OT
Pullman, Wash. - Daven Harmeling scored a career high 28 points to help Washington State beat No. 7 Arizona in overtime.
Arizona (12-2, 3-1 Pac-10) tied the score at 67 to force overtime, but was outscored 10-6 in the extra period to see its 12-game winning streak snapped.
Copyright 2018 The Associated Press. All rights reserved. This material may not be published, broadcast, rewritten or redistributed. We strive to uphold our values for every story published.