Six women - black, white, Catholic, Jewish, Presbyterian, college graduates, high-school dropouts, poor and rich. What could they have in common?
They all played roles in the civil rights movement and will come together in Cherisa Dulin Williams' play "HIStory HERstory Made the Difference" on Saturday at the Lawrence Arts Center as part of the 22nd annual Martin Luther King Jr. Community Celebration.
Williams started the project last April with the help of long-time friend Victoria Barbee. The two, who are co-directing the play, are the daughters of the Revs. Leo Barbee of Lawrence Victory Bible Church and William Dulin of Calvary Church of God and Christ, two of the founders of Lawrence's Martin Luther King Jr. Day celebration.
After brainstorming, the two decided it would be important to focus on women who contributed to the civil rights movement.
"Too often in history, it's HIS story. It's white men writing about white men," Dulin Williams said. "These were just ordinary women. If you just looked at their lineage, you wouldn't think they did something so marvelous, but they did. They took a stand."
Dulin Williams said the emphasis of the play is on the dialogue between the six women in the hypothetical meeting, but the play will also show re-creations of some of the stories, along with seven musical numbers.
"These were all women who made a difference in their own unique way. All these women did what they could do," Victoria Barbee said. "They did it their own way, so we're just bringing them back together to share their stories."
Kim Murphree, who is playing the role of Carol Ruth Silver, a Jewish woman who was active in the freedom rides of 1961, said the use of real people and their stories gives the play a personal aspect.
"The stories that we're talking about and that will be portrayed are real," she said "That's one of the things that makes it so powerful."
Past Event
When: Saturday, January 13, 2007, 7 p.m. to 9 p.m.
Where: Lawrence Arts Center, 940 New Hampshire St., Lawrence
Cost: $5 - $15
-->
-->
Murphree said the use of music is a great way to express the feelings of those characters.
"This play is not just about the words. It's about the music," she said. "Song has always brought strength to downtrodden people."
Anthony Jones, minister of music at El Shaddai Ministries in Topeka, volunteered to serve as the music director for the production, which will feature one of his original songs and a song by R&B; singer and pianist Kelley Hunt. Jones said the music is necessary to set the mood and the environment for such a production.
"Music has its way of pointing you to a time and era," he said. "I believe when you hear the songs, you'll be able to relate to it."
The six characters are Silver; Virginia Durr, a white Southern belle turned civil-rights activist; Viola Liuzzo, a mother of five who headed south to join protests; Jo Ann Robinson, a black English teacher who petitioned for the desegragation of Montgomery buses; Fannie Lou Hamer, a poor, black woman who left the cotton fields to work for voting rights for Southern blacks; and Diane Nash, a black woman who went from Chicago to Tennessee for college and felt obligated to help.
Nash, who went on to be the unofficial leader of the 1960 lunch-counter sit-ins in Nashville, is scheduled to be the speaker at the commemorative service at 6:30 p.m. Jan. 15 at the Lied Center.
Dulin Williams said she chose these six women because they epitomize the theme of the week: "Ordinary people can make a difference."
Photo Gallery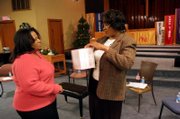 MLK play
"There were many women who participated in very significant ways in the civil rights movement that we don't know about," she said. "These were ordinary, regular people."
These women's stories bring a lesson that continues to be applicable in modern day, Dulin Williams said.
"The greater message I want to get out is that anyone, everyone can make a difference," she said. "I believe everyone has something they can use to contribute to society and make it better."
With that lesson, Murphree said it is important to recognize that there is always a need for education because prejudice continues.
"We have to be reminded that what happened then is happening now," she said. "It doesn't matter what the divisions are when they lead us to hate. Then, everybody loses."
Copyright 2018 The Lawrence Journal-World. All rights reserved. This material may not be published, broadcast, rewritten or redistributed. We strive to uphold our values for every story published.