Photo Gallery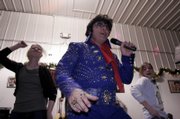 Elvis in action
Nearly 72 years after he was born, Elvis still has a way with the ladies.
And he's a hit in Lawrence.
About 200 people of all ages danced, clapped and sang along with Tony Aversa, a 56-year-old Lawrence car salesman who impersonates the King, Saturday night at Steve's Place, near 31st and Louisiana streets.
"How you doin', sweetheart?" Aversa asked a woman as he kissed her on the cheek.
The man in a blue jumpsuit made his way through the crowd, sitting on women's laps and sharing the love while singing "Now or Never."
Aversa and his wife, Connie, recently moved to Lawrence from Sarasota, Fla., and they wanted to play a show for Elvis Presley fans to celebrate his birthday Monday.
Aversa had the sideburns, sunglasses and the jewelry to add to the experience, which he completed by swiveling his hips.
He sang a range of songs that spanned Elvis' career, including "Hound Dog," "Blue Suede Shoes" and "All Shook Up."
And he told stories about the King, including Elvis' decision to serve in the U.S. Army without trying to use his status as a celebrity to get special treatment.
"That's why I love Elvis, because he was a real, genuine American boy," Aversa said.
'Elvis Party' kicks off
Aversa has performed on Elvis' birthday, Jan. 8, or the Saturday night before for the last 10 years, and last year he made more than 84 appearances nationwide at shows.
"We know in Lawrence there are a lot of Elvis fans," said Aversa's wife, Connie. "He had the talent when he was performing, like he was singing just to you."
Two of the King's fans Saturday at the party were Justin Narcomey, 10, and his brother Cole, 7, who both attend Deerfield School.
"When somebody asks the kids what they did this weekend, they could say they saw Elvis," said their mother, Sarah.
She says she remembers her mother breaking the news to her the day Elvis died in 1977. Her family also has made three trips to Graceland, Elvis' celebrated mansion in Tennessee.
Copyright 2018 The Lawrence Journal-World. All rights reserved. This material may not be published, broadcast, rewritten or redistributed. We strive to uphold our values for every story published.