Don Fambrough loathes Missouri.
That's why some say it's fitting that a portion of Missouri Street - too close for comfort to the football stadium - be renamed to honor the Kansas University football icon.
"He's been the Kansas-Missouri rivalry," said David Lawrence, the color commentator for Kansas University football and host of Rock Chalk Sports Talk on 1320 KLWN. "That's why this whole symbolism of his name replacing Missouri seems so perfect."
Kansas University student Tim Burgess, aided by Lawrence and a growing faction of supporters, proposes changing the name of Missouri Street from Ninth Street to 11th Street, where it stops near the stadium, in honor of the former KU football player and coach.
The idea has yet to be proposed formally to the city.
Idea
Burgess, a sophomore from Lawrence, said his idea isn't new.
"I've talked about it for years," he said. "Other people have talked about it."
But he's been trying to get the ball rolling recently. Burgess was a recent guest on Lawrence's radio show where he discussed the idea.
He called the close proximity of Missouri Street to the stadium "annoying."
"I think a lot of places wouldn't put up with it," Burgess said. "The horseshoe in Ohio - if there was a Michigan Street right next to it, it would not have lasted nearly as long as Missouri Street."
But he said the move is more about bringing recognition to Fambrough than erasing the Missouri presence.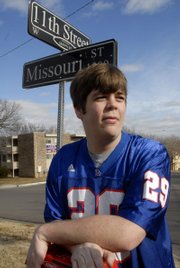 "There has always been a glaring problem in Lawrence and at the university that nothing has been named after Don Fambrough," he said. "I think that's a big problem, because I think he's been one of the biggest contributors to our football program."
Ideally, Burgess said, he'd like to change the name of the whole street, but he'll settle for just a portion.
Coach Fam
Fambrough, who has retired and lives in Lawrence, has coached or played in five of the bowl games that KU has gone to.
He played for KU in 1946 and 1947, earning All-Big Six honors. In 1947, he helped lead the team to the Orange Bowl.
He was an assistant coach for nearly two decades before becoming head coach in 1971 and leading the team until 1974. The team went to the Liberty Bowl in 1973.
After 1974, Fambrough became assistant director of the Williams Fund and head coach again from 1979 to 1982. The team went to the Hall of Fame Bowl in 1981.
"He's kind of the spirit of the Jayhawk in my mind," Lawrence said. "We've never really done anything for him, and there's no doubt he's deserving. There couldn't be a person more deserving than him."
Fambrough, who has no bones about voicing his dislike for Missouri, was tickled to hear that people would even think of such a idea.
"That would be just the greatest thrill you could ask for to have a street here in Lawrence, Kansas, named after you," he said. "I'd probably drive up and down there all day long. I've never received any honor like that."
Logistics
City Manager David Corliss said the City Commission would have to adopt an ordinance to change the name of the street.
And that would require some public discussion, including gathering feedback from those who live or own property on the street.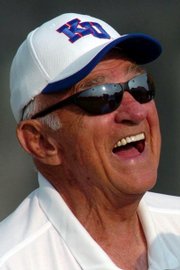 Sarah Schmille, a Lawrence native who rents an apartment on the stretch, said she doesn't favor such a change.
"It's just annoying and frustrating to get used to something and have it all changed," she said.
Corliss said the city would coordinate any change with the post office and with public safety.
He said the change could be an inconvenience for residents who would have to change their addresses. And it is one of Lawrence's state streets.
"The naming of the state streets is an important part of Lawrence's history," he said. "That may be of some concern to the public."
In 2003, the Lawrence Homebuilders Association proposed renaming 15th Street west of Iowa as Bob Billings Parkway. The effort was successful, with the name officially changed in August 2004.
"It's not without precedent that we've renamed a city street that has been long-standing with its name to a different name," he said.
Whatever the future holds, Fambrough said he's flattered.
"Regardless of what happens, I am indeed honored that some of our students at KU would think enough of me to even suggest such a thing," he said.
Copyright 2016 The Lawrence Journal-World. All rights reserved. This material may not be published, broadcast, rewritten or redistributed. We strive to uphold our values for every story published.