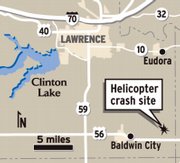 A De Soto couple in an experimental, amateur-built helicopter crashed Wednesday in a rural Douglas County creek bed, apparently after a mechanical failure.
But even after falling 1,500 feet, both passengers survived.
The pilot, James L. Dohrman, 45, was flown to Kansas University Hospital with injuries that police said weren't life-threatening. His wife, Miya M. Dohrman, 47, was not seriously injured.
They had been flying in a RotorWay "Exec 162F" kit-built helicopter owned by James Dohrman and built in 2001, according to a Kansas Highway Patrol report and Federal Aviation Administration records. RotorWay, based in Chandler, Ariz., sells helicopter kits for about $67,000, according to the company's Web site.
About 3 p.m., the helicopter was flying about 1,500 feet above the eastern edge of Douglas County when James Dohrman heard a "bang" noise, according to the highway patrol's report.
"He heard a loud knock in the rear of the craft," Kansas Highway Patrol trooper Casey Simoneau said.
The helicopter crashed soon afterward in a pasture north of U.S. Highway 56 between East 2200 Road and East 2300 Road.
Miya Dorhman reported the crash. When police arrived at 3:19 p.m., they found her outside waving them down from a field as the helicopter sat upside down in a nearby creek bed.
"It just took a little while to find her, to get her oriented to where she was," said Lt. Kari Wempe, a Sheriff's Office spokeswoman.
Simoneau said Miya Dorhman told investigators that her husband had flown such helicopters for more than 20 years.
Copyright 2018 The Lawrence Journal-World. All rights reserved. This material may not be published, broadcast, rewritten or redistributed. We strive to uphold our values for every story published.