Henley-on-Klip, South Africa — Oprah Winfrey headed a celebrity lineup that included Tina Turner and Spike Lee at the opening Tuesday of the talk show queen's new leadership academy for poor South African girls.
The true stars, though, were Sade and Megan, whose father killed their mother and then himself; Zodwa, whose mother died of AIDS, and some 150 other girls who Winfrey said had a "light so bright" that it shone through their deprivation and helped their dreams come true.
The $40 million Oprah Winfrey Leadership Academy for Girls in the town of Henley-on-Klip, south of Johannesburg, plucked the girls from poverty to be groomed for power.
Winfrey said she planned to open another school for boys and girls this month in eastern KwaZulu-Natal province.
Guests on Tuesday, including Mary J. Blige, Mariah Carey, Sidney Poitier and Chris Tucker, were asked to bring a personally inscribed book for the library, which included everything from self-help books to Harry Potter.
Winfrey, who is called "Mam Oprah" by the girls, said she came with a celebrity posse for a reason. "These people have the power to do things. They have voices which can be heard in the U.S. and across the world," she said.
Lee, who attended with his family, said it was a "testimony to Oprah's power to see all these people showed up to support her."
"Oprah is one of the most amazing women in the world. It is amazing to see what she can do when she puts her mind to it. It is an honor to be here," said Carey.
Africa has drawn attention from a number of celebrities. Madonna adopted a Malawian boy and set up programs for others orphaned by AIDS in that southern African country, while actor George Clooney has lobbied to stop the violence in Sudan's Darfur region. Other stars have acted as U.N. goodwill ambassadors.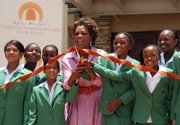 Nelson Mandela, whom Winfrey credited with inspiring her to build the school, interrupted his vacation for the ceremony. Mandela, 88, looked frail as he was helped to the stage by his wife, Graca Machel, and Winfrey.
The anti-apartheid leader, who became South Africa's first democratically elected president in 1994, beamed as he told Winfrey: "This is not a distant donation but a project that clearly lies close to your heart."
The girls sat attentively on stage in green-and-white uniforms as the poignant stories of some were told in a documentary shown to guests. A few students greeted guests and media with Winfrey, clutching at her long pink dress and holding her hand.
Maphefo Leputu, 12, of Soweto, who used to share a bed with her cousins, said she was overwhelmed at the prospect of her own room and bathroom - and the chance to one day become a lawyer.
"I would have had a completely different life if this hadn't happened to me," said 13-year-old Lesego Tlhabanyane, whose mother abandoned her when she was 4. "Now I get a life where I get to be treated like a movie star."
Earlier Winfrey said at a news conference that educating girls could have far-reaching benefits.
"Girls who are educated are less likely to get HIV/AIDS, and in this country, which has such a pandemic, we have to begin to change the pandemic," she said.
Many of the girls come from families affected by the disease, which has infected 5.4 million of South Africa's 48 million population and hit women disproportionately hard.
Winfrey referred repeatedly to her own impoverished childhood and said she was grateful she had a good education.
"I was a poor girl who grew up with my grandmother, like so many of these girls, with no water and electricity," she said.
She promised to continue to support the girls so they could attend any university in the world.
Copyright 2018 The Associated Press. All rights reserved. This material may not be published, broadcast, rewritten or redistributed. We strive to uphold our values for every story published.