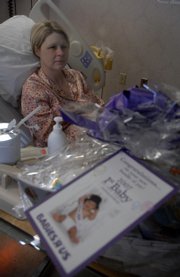 Dee Steinle can't wait to hold her newborn daughter for the first time.
Nora Katherine Steinle - Lawrence Memorial Hospital's first baby of 2007 - was rushed to Children's Mercy Hospital in Kansas City, Mo., after complications during delivery Monday left her without oxygen.
Dee is recovering from an emergency Caesarean section and is expected to be dismissed in the next day or two, she said. But hospital officials are unsure when Nora will be dismissed. However, both parents said things seemed to be progressing well.
"We're just playing it by ear and hoping everything turns out OK," Dee said. "I feel very lucky to be here and that she's here."
Dee's husband, Michael, has been splitting time between visiting his daughter in Kansas City and his wife in Lawrence.
He was at Children's Mercy on Tuesday to be with his daughter when the hospital administered a test to make sure the lack of oxygen didn't do any permanent brain damage.
"She looks great and acts like a normal baby; she's a big girl," Michael said.
Nora weighed 8 pounds, 11 ounces, and was 20 inches long when she was born.
The couple said the New Year's baby hubbub has helped them get through an otherwise scary ordeal.
"It's nice to get some attention. We were pretty touch-and-go there for a while. It's well-deserved for Mom," Michael said. "She's bouncing back better than anyone could have hoped."
Dee's due date was Thursday, but she went into labor Sunday afternoon. Dee said she thought the baby was going to be born Sunday. But eight hours of labor and an emergency surgery later, Nora was born soon after midnight.
The couple just missed the special occasion with their first child, Aaron, who turns 4 today. Aaron has yet to see his sister, but left a special message for her at Mom's hospital room.
Aaron's message wasn't the only surprise awaiting Nora.
Dee's hospital room was beginning to overflow Tuesday with gifts the family received for the baby's first-in-the-city status.
Linda Daab, a representative from the Overland Park Babies 'R' Us store, brought Dee a basket of baby products valued at more than $100. The gift basket is part of a national promotion where babies born first at a registered hospital receive a gift from the company. The first baby born nationwide receives $25,000 from Babies 'R' Us, Daab said.
Two babies born in New York are claiming that honor. Hospitals told local media that both were born at exactly the stroke of midnight.
Copyright 2018 The Lawrence Journal-World. All rights reserved. This material may not be published, broadcast, rewritten or redistributed. We strive to uphold our values for every story published.