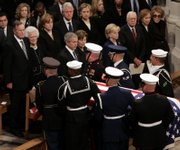 Washington — Washington's political elite and ordinary citizens said goodbye to Gerald R. Ford on Tuesday at a final state funeral at Washington National Cathedral, fondly remembering the 38th president as a common man who guided the country through the uncommon times of Watergate and the end of the Vietnam War.
The service at the majestic cathedral highlighted a day of pageantry and poignancy, in which Washington's old guard, three former presidents and a host of foreign luminaries assembled to pay tribute to the humble Midwesterner who aspired to be speaker of the House of Representatives but wound up occupying the Oval Office instead.
"In President Ford, the world saw the best of America, and America found a man whose character and leadership would bring calm and healing to one of the most divisive moments in our nation's history," President Bush told the 3,000 invitation-only mourners who packed the hilltop cathedral.
Eulogizing Ford, the current and former Presidents Bush and former Secretary of State Henry Kissinger spoke of a good man whose word was solid, whose politics were principled and whose heart was devoid of lust for power.
"In his understated way he did his duty as a leader, not as a performer playing to the gallery," Kissinger said. "Gerald Ford had the virtues of small-town America: sincerity, serenity and integrity."
Former President George H.W. Bush recalled Ford as "a Norman Rockwell painting come to life, an avuncular figure quick to smile, frequently with a pipe in his mouth," and someone with "a heart as big and open as the Midwest Plains on which he was born."
He was one of several speakers who suggested that Ford's unassuming manner may have resulted in his being underappreciated, if not an underrated president.
The elder Bush equated Ford's leadership after Richard Nixon's Watergate resignation as one of history's great presidential moments.
"History has a way of meshing man and moment," he said. "Just as President Lincoln's stubborn devotion to our Constitution kept the union together during the Civil War, and just as FDR's optimism was the perfect answer to the despair of the Great Depression, so, too, can we say that Jerry Ford's decency was the ideal remedy for the deception of Watergate."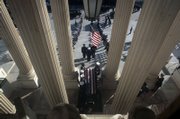 The elder Bush lightened the solemn service by recalling Ford's sense of humor and his approval of comedian Chevy Chase's stumbling, bumbling imitation of him on NBC's "Saturday Night Live," even though Ford was, in fact, a superb athlete.
Bush said Ford taught him to laugh at himself. The former president wanted to tell more but, breaking into an imitation of "Saturday Night Live" alum Dana Carvey imitating him, said, "Na gonna do it. Wouldn't be prudent."
If Ford was underappreciated in life, he's been viewed with reverence and purpose since his passing Dec. 26 at age 93. Thousands lined up to view his flag-draped casket as it lay in state at the Capitol Rotunda over the weekend.
Former Sen. Bob Dole, R-Kan., who was Ford's vice-presidential running mate in 1976, served as an honorary pallbearer, along with former Defense Secretary Donald H. Rumsfeld, Vice President Dick Cheney, former National Security Adviser Brent Scowcroft and members of Ford's Cabinet.
After the service, Ford's body was flown aboard a presidential 747 to Grand Rapids, Mich., where he was raised. His remains were moved to the Gerald Ford Presidential Museum, where they were to lie in repose for public viewing until today.
A private family funeral is scheduled today, followed by private burial at the Ford museum.
Copyright 2018 The Lawrence Journal-World. All rights reserved. This material may not be published, broadcast, rewritten or redistributed. We strive to uphold our values for every story published.