Bangkok, Thailand — Thailand's military-backed government named supporters of ousted Prime Minister Thaksin Shinawatra on Monday as unofficial prime suspects in New Year's Eve bombings that killed three people and wounded 38 in the capital.
Nine foreigners were among the wounded after nine small bombs exploded across Bangkok and its environs Sunday night. The attacks caused city authorities to shut down large-scale celebrations, and raised concerns about Thailand's stability, shaky economy and thriving tourism industry.
The bombings capped a year of unrest in Thailand, including a military coup three months ago and an increasingly violent Muslim insurgency in the south.
Nobody has claimed responsibility for the bombings, but the government is focusing on supporters of the former regime - though it has named no one specifically and presented no proof.
"From the evidence we have gathered, there is a slim chance that it is related to the southern insurgency," Prime Minister Surayud Chulanont said. "It is likely related to people who lost their political benefits," he explained, referring to Thaksin's ousted regime.
A bloodless Sep. 19 coup against Thaksin was the culmination of months of tensions, as a popular movement staged protests demanding he step down for alleged corruption and abuse of power.
Despite the takeover by the military, which installed Surayud as head of an interim civilian government, political calm has not been restored and the coup leaders accuse Thaksin's supporters of trying to stir unrest.
Thaksin, who has been barred from the country since the coup and is traveling in China, said through his attorney that he had nothing to do with the bombings. He condemned the attacks and called the allegations of his involvement "unfair."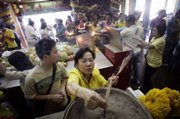 "Thaksin was elected by the people and even during the time of conflict, he has refrained from using violence," Thaksin's attorney, Noppadol Patama, told a news conference in Bangkok. "It is very unlikely that a politician who was elected by the people will resort to violence."
Deputy national police chief Ajirawit told reporters that security had been stepped up at 6,000 different locations across the city. But on Monday there were few signs of the bombings and little evidence of a security presence.
Although Western embassies issued warnings to their nationals to exercise caution because of the possibility of fresh attacks, many tourists in Bangkok - including at least one of the wounded - took the violence in stride.
The wounded foreigners included four Hungarians, three Serbians and two British citizens. Two remained hospitalized.
"I can't see why this would deter me from coming back," said Paul Hewitt, a Briton.
An explosion in a crowded shopping district drove a piece of debris deep into Hewitt's left arm. He was hospitalized overnight and discharged Monday.
"I just happened to be standing in the wrong place at the wrong time. It could've happened anywhere in the world," said Hewitt, 55, a retired flight attendant from Horsham, England.
Still, travel industry insiders and analysts worried about the bombings' effects on tourism, a major revenue earner.
About 1 million tourists come each month, and many seek out Bangkok's elegant temples, blazing-hot food, riotous nightlife and sidewalks jammed with vendors.
Copyright 2018 The Associated Press. All rights reserved. This material may not be published, broadcast, rewritten or redistributed. We strive to uphold our values for every story published.