Indianapolis — Indianapolis has endured the postseason indignity of losing at New England twice, the shock of losing at home to Pittsburgh and even getting shut out by the New York Jets.
It's not a postseason trend they like, but the only way the Colts can change their image as Team October is to start winning in January.
"Yes, you are judged by that," coach Tony Dungy said Monday. "That's how our league is set up and that's how you win championships, by winning in the playoffs."
Indy (12-4) understands the lesson better than most teams.
A year ago, the public virtually crowned Indianapolis the AFC champions after going 13-0, capturing the No. 1 seed and earning the right to play indoors through the playoffs. A stumble against Pittsburgh in the divisional round ruined what many considered its best Super Bowl shot.
In 2004 and 2005, Indianapolis also won its division title and wild-card games over Denver before eventually losing to the Patriots.
Three straight times they've been eliminated by the Super Bowl champs.
This year, after winning a fourth straight AFC South title with the league's worst run defense, the Colts are expected to follow their trend.
Opponents rushed for more than 2,700 yards this season and Indianapolis broke a dubious franchise record that stood since 1953 - its first year back in the NFL after a two-year hiatus - by allowing 5.3 yards per carry. The previous mark was 5.2.
With Kansas City and Larry Johnson coming to the RCA Dome on Saturday, Indy is likely to get another steady diet of power football.
Four losses in seven weeks, including four straight on the road, hasn't helped turn doubters into believers.
"I think we're definitely under the radar," Dungy said. "But that's not really a good thing. Usually when everyone thinks you're playing well, it's because you are."
Sunday's 27-22 victory over Miami has at least given the Colts some momentum.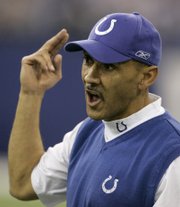 Ronnie Brown rushed for 115 yards, a pedestrian number against this defense, and although the Dolphins moved inside the Indy 25 six times, they managed only one touchdown and five field goals.
Manning, the two-time MVP, also has played well. Over the last three games, he completed 72 percent of his passes, threw for 769 yards and nine TDs with no interceptions.
But to stick around for a few more weeks, Dungy realizes the offense must continue to play well while the defense needs to demonstrate it can improve.
"You have do what you do and do it in high-stakes situations," he said. "You can make 100 straight free throws, but can you make the one to win the game? It's about whether you can function and do what you're called on to do when everything is on the line."
A game like Sunday's would normally create optimism.
But Manning is likely to hear more this week about his 3-6 playoff record, which includes those two wins over Denver and one over Kansas City, with no Super Bowl appearances on an otherwise impeccable resume.
"A lot of that is how games play out," Dungy said. "If you get behind and you're throwing because you have too, they can run pass-rush stunts and blitzes without regard for the run."
The Colts can use history as a roadmap, too.
The Steelers, the AFC's No. 1 seed in 2004, lost at home in the AFC Championship Game, then sneaked into the playoffs last year and wound up winning it all.
Denver followed a similar path after cruising to the AFC's No. 1 seed in 1996, getting eliminated in the divisional round and then winning the Super Bowl in 1997 as a wild-card team.
The Colts know it can be done. They just have to prove they can advance in the playoffs.
"If you have one good game, you're the hero. If you have one bad game, you're out," Dungy said. "It's kind of like the Indy 500. You get that starting position and then you run the race. Everyone remembers who won, not who got the pole."
Copyright 2018 The Associated Press. All rights reserved. This material may not be published, broadcast, rewritten or redistributed. We strive to uphold our values for every story published.