Nora Katherine Steinle was only a half hour behind 2007.
Lawrence's first baby of the year beat her original due date of Jan. 4 and joined at Lawrence Memorial Hospital her new parents, Michael and Dee, and big brother, Aaron, who will turn 4 on Wednesday.
Nora's arrival came with unexpected events for the family. It involved an unplanned Cesarean section and a trip to Children's Mercy Hospital in Kansas City, Mo., after her delivery. Mother and daughter were still separated Monday night.
"We're really thrilled to be a part of the community and to be recognized in this way with such warmth and concern. It's really touching to us, and we're really honored to have that," Dee Steinle said Monday evening.
Dad made the trip to Children's Mercy with Nora, and by the end of the day, he was able to hold his new 8-pound, 11-ounce and 20-inch-long daughter.
"It was very dramatic and traumatic. I'm hoping for the best, but I spoke to the nurse at Children's Mercy a little earlier - the baby's nurse - and she said she's doing everything that you would expect a newborn to do at this point, so I thought that was really good," Mom said calmly from her LMH hospital bed Monday night.
"She looks great. She acts like a normal baby, and given what she went through coming into the world, she looks really good. She looks amazing," Michael Steinle said.
The surgery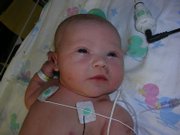 The Steinles were married in 1995 and moved back to Lawrence in 2000. Dee is administrative director of masters programs at Kansas University's School of Business.
Michael is a consultant for Tetra Tech Inc., an environmental and biosecurity consulting firm based out of Lenexa.
The family's optimism Monday night followed Dee being rushed into surgery following complications. She had gone into labor Sunday afternoon.
"I wasn't able to successfully push the baby out. ... The placenta separated, and once that happens you have to have the baby taken out as quickly as possible," Dee said.
She thanked her medical team that included Dr. Carla Phipps, Dr. Joy Murphy, Dr. Samantha Durland and nurse Barbara Bushell. They were able to quickly remove Nora, who at first needed help breathing.
"It was a lot of precaution, but she had turned herself back the wrong way again by the time they were able to get her out in the surgery," Dee said.
Dee remained in surgery for a few more hours. By Monday evening, the new mother of two was able to talk with family, get an update on her daughter's status, see some pictures of her and make plans to see Nora in the next couple of days.
Michael split time between the two hospitals, bringing back photos and stories for Mom. He said Monday night by telephone from Children's Mercy that Nora's breathing had stabilized and that doctors planned to run tests today.
'Fighters'
The family members can't wait to spend time in downtown Lawrence, at city parks and at other activities with their new addition, Dee said.
"I think right now my major dream is just that she's healthy and strong and ready to take on the world," Dee said.
But when Nora gets older: "I have a good MBA program for her. That's for sure," her mother said.
For being Lawrence's New Year's baby, Nora has received several gifts, including an autographed basketball from KU's women's team and a new car seat.
Nora's grandparents are Bill and Linda Gerdes, of Lecompton, and Darrell and Donna Steinle, of Topeka. Her uncle and aunt are Rich and Penny Gerdes, of Lawrence.
By Monday night, the mother of Lawrence's first 2007 baby had come up with her New Year's resolution.
"I think just take it as it comes. This is good evidence, too, that I need to do that. It's very different than I would have expected it to be with this baby in some ways," she said.
Michael said he looked forward to getting everyone home for a nice slumber as he pondered the emotional and sometimes "terrifying" events of the previous 24 hours.
"They are both fighters. Dee's strength is really an inspiration," he said as he fought back tears.
Copyright 2018 The Lawrence Journal-World. All rights reserved. This material may not be published, broadcast, rewritten or redistributed. We strive to uphold our values for every story published.