Kansas City, Mo. — After Sunday's 35-30 victory against Jacksonville, Kansas City Chiefs coach Herm Edwards was resigned to his first season in Kansas City being finished.
"This is the first time, if we don't get in," Edwards said, "that I missed the playoffs two years in a row. That doesn't sit well in my stomach."
The odds facing the Chiefs were enough to make anyone queasy. The Chiefs needed Cincinnati, Tennessee and Denver all to lose at home to qualify for the playoffs.
And guess what? Each team obliged, sending the Chiefs to the playoffs for the first time since 2003.
"When we're at home and our backs are against the wall," running back Larry Johnson said, "we usually play a lot better."
Johnson's 138 yards and a pair of big return plays helped the Chiefs maintain a lead throughout Sunday's game in Arrowhead Stadium.
The Chiefs scored on a blocked punt, and Ty Law intercepted a screen pass to set up the second of Johnson's three touchdowns in Kansas City's regular-season finale.
Eddie Kennison caught six passes for 144 yards and a touchdown on a 35-yard flea-flicker from Trent Green.
"It's fun," Kennison said of Kansas City's trick plays, which included a tailback-pass attempt from Johnson. "It's even more fun when it works."
Sunday's game was a pretty accurate microcosm of the Chiefs' season. They started strong, jumping out to leads of 28-10 and 35-17. Kansas City let up when quarterback Quinn Gray, playing for the ineffective David Garrard, led the Jaguars on three second-half scoring drives, scoring twice on runs. The Chiefs used Johnson, their workhorse all year, to run out the clock and salvage the win - and a winning season.
Damon Huard reprised his role as stopgap savior, stepping in for one drive in the third quarter and leading the Chiefs to a touchdown when Green sprained an ankle. Huard was removed after sustaining a concussion, though Edwards said Green would have returned regardless.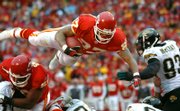 Huard started eight games early in the season, posting a 5-3 record.
"Offensively, we did what we had to do today," Kansas City guard Brian Waters said, his glance occasionally drifting to the locker-room TVs showing the Denver-San Francisco game. "I hope they knew we were a physical football team. If not, I guess they do now."
First-half defense and a strong running game, led by Johnson, helped the Chiefs earn their seventh sneak into the playoffs, but the players weren't satisfied with Kansas City's final record.
"Nine-and-seven, with the talented players we have on this team, is horrible," defensive end Jared Allen said. "Absolutely horrible."
The Chiefs, the No. 6 seed in the AFC playoffs, will play at third-seeded Indianapolis at 3:30 p.m. Saturday.
¢ Hunt honored: The Chiefs honored founder Lamar Hunt, who died Dec. 13 after a long battle with prostate cancer, with a pregame video and moment of silence, followed by band leader Tony DiPardo playing Taps.
¢ Johnson snags NFL record: Johnson carried the ball for the 411th time this season at the 2:33 mark in the fourth quarter, breaking the NFL record previously held by Atlanta's Jamal Anderson. Johnson finished with 416 carries for the year.
"Hopefully I won't have over 400 attempted every season," Johnson said. "Now you don't have to worry about tiring me out because you know how far I can go."
Copyright 2018 The Lawrence Journal-World. All rights reserved. This material may not be published, broadcast, rewritten or redistributed. We strive to uphold our values for every story published.