Miami — Nick Saban swears he's not leaving the Miami Dolphins to take over at Alabama.
The Crimson Tide, however, aren't buying his public statements and are reportedly ready to blow Saban away with a mammoth offer.
The Miami Herald and Palm Beach Post both reported this weekend that Alabama will present an offer of at least $40 million to Saban this week, hoping to convince the former LSU coach to take over its program.
Saban is owed about $15 million in the final three years of his contract with the Dolphins.
A current Alabama assistant told ESPN.com's Mark Schlabach on Sunday that former coach Mike Shula's staff expects Saban to be named the Crimson Tide's new coach sometime this week.
An Alabama official, speaking on the condition on anonymity, said earlier this week the Crimson Tide are interested in as many as five candidates to replace Shula, but Saban was clearly the top choice. The Alabama official said the school hoped to have Shula's replacement hired by Friday.
Reports linking Alabama and Saban began circulating soon after the Crimson Tide fired Shula as coach in late November. Saban has repeatedly denied interest in the job.
Saban said he wouldn't comment on the Alabama opening anymore.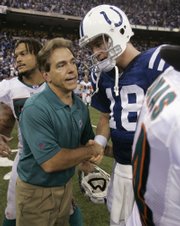 He reminded reporters of his stance after Miami's season-ending 27-22 loss to the Colts on Sunday, adding the Dolphins job is the one "I'm committed to doing well."
Saban agreed to a five-year contract worth at least $22.5 million with Miami on Christmas Day 2004.
Saban went 48-16 in five seasons at LSU, won the 2003 BCS national championship and went 92-42-1 as a college head coach.
LSU offensive coordinator Jimbo Fisher, who worked for Saban when the Tigers won the 2003 BCS national championship, said he wasn't sure if Saban would return to college football.
"I don't know what Nick's going to do," Fisher said. "That deal over there, I don't know. I'm sitting on the edge of my seat like everyone else waiting to see what happens."
Fisher did indicate that Saban is unhappy coaching in the NFL.
Copyright 2018 The Lawrence Journal-World. All rights reserved. This material may not be published, broadcast, rewritten or redistributed. We strive to uphold our values for every story published.