New York — More than 1 million revelers in Times Square greeted 2007 with cheers, kisses and a whopping 3.5 tons of confetti at the city's massive New Year's Eve party.
The famously flashy New Year's Eve ball dropped down a flagpole to a countdown chorus led by Mayor Michael Bloomberg and U.S. servicemen and women. Longtime TV host Dick Clark ticked off the final 10 seconds from a television studio.
Partygoers from all over the world poured into the area hours before the clock struck 12 to hold prime viewing spots. Temperatures were in the mid-40s throughout the night.
Police, providing security for the huge crowd, said everything went according to plan. Spectators passed through police checkpoints, no big bags or backpacks were permitted and bomb-sniffing dogs roamed the crowd.
Jurie Smith and his family traveled from Johannesburg, South Africa, for the event. They waited nearly 12 hours to see the ball drop.
"This is the best place in the world to ring in the new year," he said. "The spirit of the place is amazing. I feel so alive being here."
"This is the center of the universe," said Raffael Dalvise, who lives outside Venice, Italy. "There is no other place to be."
Staking out spots
Greg First and his 14-year-old daughter, Erika, traveled from Lavonia, Mich., outside Detroit, to attend the event.
"I've watched this for 40 years on TV, no joke," said First, 43. "I wanted to be here just once."
The two had been waiting since 10 a.m. and brought apples and nuts so they wouldn't have to move, because once you leave there's no chance of getting back to the front-row spots.
Public drinking was banned again, and visitors were being herded into a series of viewing pens that prevented them from bar-hopping.
A lack of alcohol didn't bother Lena Zellers, 22, of Pittsburgh, who was attending the event for the first time with friends from New Jersey. She wore a "Happy New Year" tiara and "2007" sunglasses with her eyes poking through the zeros.
"I came here to be here, not to be in a bar down the street," she said. "You can drink anytime."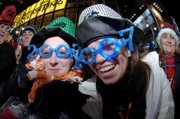 More than a dozen major acts performed during the evening, including pop singer Christina Aguilera, the rap group Three 6 Mafia, country band Rascal Flatts, R&B; singer Toni Braxton and the cast of the Broadway musical "Jersey Boys."
The Texas band Radiant kicked off the event, when the famously flashy New Year's Eve ball was raised to the top of a flagpole.
Revelers practiced several countdowns to 2007 in the hours before the show, complete with cheers and New Year's kisses.
Clark was back for ABC's "New Year's Rockin' Eve" broadcast for the second time since a stroke caused him to skip a broadcast in 2004. He co-hosted the event with Ryan Seacrest.
Clark's appearance last year was an abbreviated one in which he acknowledged that his illness had left him in "bad shape," but Clark's spokesman, Paul Shefrin, said the icon was doing better.
Back in a big way
An unprecedented 3.5 tons of confetti was dumped on the crowd during the evening. Visitors were expected to drop tens of millions of dollars on food, booze and souvenirs, capping what some are calling the city's busiest tourism year ever.
"When you think about five years ago, when we had our first New Year's Eve after 9/11, there were two questions on everyone's mind: Was there going to be another attack, and was New York going to make it?" said Tim Tompkins, president of the Times Square Alliance, which co-organizes the party.
"That's so far removed from where New York is now," he said.
Indeed. Rooms with a view of the square at Doubletree Guest Suites went for $2,000 for this year's celebration.
Tables at Foley's Fish House, which has a panoramic view just above the crowd in the Marriott Renaissance New York Hotel, sold out at a cost of between $750 and $1,000 per person for the evening, said Marriott spokeswoman Kathleen Duffy."
Bloomberg said that revelers would be "safer in Times Square on New Year's Eve than anyplace else," but he insisted that tight security would not spoil the show.
"The ball drops and people scream and the confetti comes down and the fireworks go up and the band plays," he said. "It's about as American and New York a thing as you can possibly do."
Copyright 2018 The Associated Press. All rights reserved. This material may not be published, broadcast, rewritten or redistributed. We strive to uphold our values for every story published.