Just before serving the Karamu feast to celebrate Kwanzaa, Maren Turner, of Lawrence, had her nine guests repeat the chant "Harambee."
She led, and they would repeat. Then she would lightly pound the drum in her basement before repeating "Harambee" until they had all said it seven times.
"Let's all pull together," Turner said, explaining the meaning of the Swahili word.
Those assembled - people of all races - were there to celebrate the African-American holiday, which began in 1966, that celebrates family, community and culture.
"For me Kwanzaa is a reminder of my heritage, and it's a time for me to celebrate the survival of those tribal traditions that got my people through slavery," said Turner, a Kansas University doctoral student and director of AARP Kansas.
On Sunday afternoon - New Year's Eve - Turner led the group through several rituals including lighting candles, pouring water onto a mat and giving a toast of water.
They helped honor their ancestors and shared blessings with each other about the past year.
Kwanzaa begins each year on Dec. 26 and ends Jan. 1, and it emphasizes seven principles, or one for each day: Umoja, or unity; Kujichagulia, self-determination; Ujima, collective work and responsibility; Ujamaa, cooperative economics; Nia, purpose; Kuumba, creativity; and Imani, faith.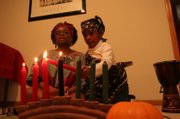 Scholar and activist Maulana Karenga, who lives in California, founded the holiday in the African tradition in response to race riots in the 1960s. It is not a religious holiday, Turner said, but some place a spiritual emphasis on it.
Turner said during Kwanzaa she focuses on one principle for each day. This was the first year she had friends over for the Karamu feast, and she said she enjoyed the celebration with her good friends.
"The overarching principle is unity; anybody can celebrate it. Unity involves everybody. We all have to pull together - Harambee," Turner said.
Copyright 2018 The Lawrence Journal-World. All rights reserved. This material may not be published, broadcast, rewritten or redistributed. We strive to uphold our values for every story published.