Los Angeles — Andrew Loren Klamer knows something about the game of life. His dad invented it, after all.
Now Klamer, whose father Reuben Klamer created the Game of Life for Milton Bradley and came up with an early competitor to the hula hoop, is taking a spin at inventing. His contribution? Karma. In a can. And a candle. And a soap.
Klamer's company, Karma Creatives Inc., is selling novelty cosmetics such as aromatherapy sprays, bath crystals and hand lotions.
The products contain a blend of seven "good herbs for good karma" that include ginseng, lavender and peppermint, and come with a trademark karma philosophy about the importance of doing good things.
Klamer is confident that he started his business at an opportune time: at the cusp of a karma trend epitomized by the television show "My Name is Earl," the Alicia Keys song "Karma" and a Motorola marketing campaign that supposedly helps people improve their karma.
Karma traditionally is defined as the principle of action and reaction that leads to an individual's deeds coming back in one way or another, said Sannyasin Arumugaswami, managing editor of Hinduism Today magazine.
"You're not going to protect your karma by spraying something," he said of Karma Creatives' product, which retails for $6 to $8.
Klamer, 32, worked in television for seven years before bringing this venture to investors two years ago. He is the first to explain that simply buying his product won't give consumers good karma.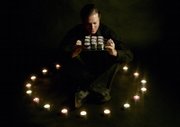 "It's more of an awareness, about living the clean lifestyle," said Klamer, who meditates regularly and is prone to quoting the Dalai Lama.
The product is appealing because everyone buys into the power of suggestion, said Cina Hodges, owner of manufacturers' representative Showroom 504, which recently agreed to work for Karma Creatives.
"Just with a spritz, everything is OK again," Hodges said. She plans to market the products to hospital gift shops, where people probably will want good karma, as well as beauty supply stores.
Consumers always are willing to buy products that make sure good things will happen to them, said Debbie MacInnis, a marketing professor at the University of Southern California's Marshall School of Business. This is especially true today, she said, when consumers are feeling a lot of anxiety.
"People are naturally gravitating to things that assure them that things are going to be good in the future," she said.
When asked whether consumers will pay for the scented karma water in a can that is his signature product, Klamer points to Evian's success with mineral water sprays. He thinks his water mister will do even better: It has principles, after all.
Karma Creatives is projecting sales of $500,000 for its first few months in business, which makes Klamer think he's found the next pop culture phenomenon, much as his father did 50 years ago. His father supports his endeavors, Klamer said, and even heard an elderly couple toasting to karma in a restaurant - a sure sign that the product has good vibes.
"When my dad got it," he said, "I knew I was onto something."
Copyright 2018 The Lawrence Journal-World. All rights reserved. This material may not be published, broadcast, rewritten or redistributed. We strive to uphold our values for every story published.