Madrid, Spain — A weekend car bombing in Madrid shattered a 9-month-old cease-fire with Basque separatists and left Spain's prime minister groping for a way to salvage the nascent peace process.
Less than 24 hours before the bomb went off Saturday at Madrid's international airport, Prime Minister Jose Luis Rodriguez Zapatero had sounded upbeat about ending the decades-old conflict in the Basque region when he spoke at a news conference. With elections 15 months away, he had hoped a peace agreement would be part of his legacy.
"It is a very major setback," said historian and political scientist Charles Powell of San Pablo-CEU University in Madrid. "I think he is really stuck."
The bombing was blamed on the Basque separatist group ETA, which declared a cease-fire in March. It left two men missing and injured 26 people. Thousands of terrified holiday travelers were stranded.
ETA's fight for an independent Basque state has killed more than 800 people since the 1960s. But Saturday's bombing, if definitively linked to the group, would be ETA's first fatal attack since May 2003.
In the aftermath of the bombing, the government suspended plans for peace talks with the separatists. But Sunday in Madrid, some protesters demanded the government abandon the peace process altogether.
"Events like yesterday show yet again that all ETA wants to do is kill," Francisco Jose Alcaraz, president of an association of victims of ETA violence, told several thousand demonstrators in Puerta del Sol, a downtown Madrid plaza.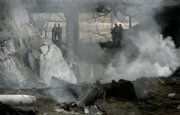 ETA did not claim responsibility for the bombing. But a man who placed a warning call before the attack said he was a representative of the group. Following previous attacks, the group has sometimes waited weeks to claim responsibility.
The Interior Ministry said the van used in the bombing was stolen at gunpoint on Wednesday in France by three people who identified themselves as ETA members. The vehicle's Spanish owner, who reported the carjacking to police, was held captive for three days and freed in France an hour after the bomb went off in Madrid.
At the airport, crews searching for two missing men removed tons of concrete and metal at a five-story parking lot that was largely destroyed in the explosion. The men, Ecuadorean immigrants, were believed to have been sleeping inside two separate cars.
Because of the size of the blast, officials held out little hope that the pair survived. Their deaths could be a blow for ETA, which in recent years has tried to avoid casualties by attacking empty buildings.
Many Spaniards believed more killing by ETA had become unthinkable after the March 2004 terror attacks on four Madrid commuter trains. Those bombings killed 191 people and were blamed on Islamic extremists.
Kepa Aulestia, a former ETA member who now opposes the group and works as a political analyst in the Basque region, said ETA will pay a high political price - even among Basque nationalists - if the missing men are found dead.
Copyright 2018 The Associated Press. All rights reserved. This material may not be published, broadcast, rewritten or redistributed. We strive to uphold our values for every story published.