Denver — Now Mike Shanahan wishes he hadn't gotten his wish.
Denver's coach wanted Kansas City to win on Sunday so that the Broncos wouldn't back into the playoffs but be motivated to play their best football.
Instead, the Broncos tumbled into the offseason when Joe Nedney's 36-yard field goal with 1:56 left in overtime sent the San Francisco 49ers past the stunned Broncos, 26-23.
"Well, you want to play your best football this time of year," Shanahan said. "If we played like we did today, we wouldn't go very far in the playoffs. If we played like we did last couple of weeks, we had a chance to do something special."
Now, their AFC rivals in Kansas City will have that opportunity. Denver's fifth loss in seven games made the Chiefs (9-7) the final wild-card team.
Had the Chiefs not beaten Jacksonville, the Broncos would be heading to the postseason, even with their loss.
All the Broncos (9-7) needed was a win over the double-digit underdog Niners (7-9) or even a tie to earn a spot in the playoffs but they couldn't score on three trips inside the Niners five and blew an early 13-0 lead.
"Whenever you get on the one-yard twice and in the red zone three times and you don't score no touchdowns that's pathetic," Broncos rookie receiver Brandon Marshall said. "We have a lot of work to do.
"San Francisco?" Marshall added. "Come on, San Francisco? It was a perfect setup for us."
And an absolute letdown.
"We had some opportunities early to put the game away," Shanahan said. "Obviously, San Francisco did a fine job keeping us out."
Of the end zone and the playoffs.
"You better believe it felt good taking them out," Niners quarterback Alex Smith said. "If we were going to be home for the playoffs, we wanted them to be right with us."
With a sputtering ground game, the Broncos were unable to run out the clock in overtime.
"We weren't thinking about a tie," Cutler said. "That was the last thing on our minds. You play another 15 minutes, somebody's going to score most of the time."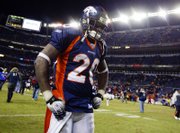 San Francisco got the ball back with 4:38 left in overtime and drove 42 yards to the Denver 18, where Nedney kicked his fourth field goal. As it sailed through the uprights, Denver safety John Lynch smashed his helmet on the grass, a crushing end to Denver's dreams of a franchise-record fourth straight trip to the playoffs.
Niners coach Mike Nolan said that if Chiefs coach Herm Edwards get a bonus for reaching the playoffs, "I want half of it."
The Broncos sent the game into overtime when rookie Jay Cutler, knocked woozy and sidelined by a hard hit in the first half, drove his team 80 yards in 10 plays and threw a fastball to fellow rookie Tony Scheffler for a nine-yard TD with 90 seconds left in regulation.
"I was a little dinged up. My head was swimming a little bit," Cutler said. "But I was fine in the second half."
After Champ Bailey returned his league-leading 10th interception 70 yards for a touchdown and a 13-0 lead, the Niners responded with 17 straight points, capped by Walt Harris's 28-yard interception return for a touchdown.
"It's terrible, it really is," said Broncos receiver Rod Smith, one of a handful of holdovers from the Broncos' championship teams of the late 1990s. "We're better than that football team, by far. We didn't play like it today. It ended our season. We ended our own season. It's hard to take that. We were in control of our own fate and we chose not to move forward and nothing you can do about it now."
Lions 39, Cowboys 31
Irving, Texas - The Cowboys are headed into "the tournament" at their worst. They couldn't even beat Detroit on a day when a loss would've given the Lions the No. 1 pick in the draft.
Done in by repeated mistakes from Tony Romo and a few more by Terence Newman, the Cowboys blew their last chance to win the NFC East with a loss to the Lions.
Roy Williams caught a pair of touchdown passes, Mike Furrey and Mike Williams each caught one, and Jason Hanson kicked four field goals, helping Detroit (3-13) score its most points of the season.
Jets 23, Raiders 3
East Rutherford, N.J. - The surprising Jets are headed for an improbable trip to the playoffs.
Chad Pennington threw a touchdown pass to Chris Baker, Leon Washington ran for a touchdown, and Mike Nugent kicked three field goals. Cheered by a sea of towel-waving fans throughout the game, New York (10-6) never trailed and took control in the second half. The Jets were 4-12 last year.
The Raiders (2-14) got one consolation, the first overall pick in next April's draft.
Steelers 23, Bengals 17, OT
Cincinnati - Santonio Holmes' long touchdown catch in overtime ended the Bengals' season and gave Steelers coach Bill Cowher a reason to smile as he decides whether his Pittsburgh career is over.
Holmes caught a pass from Ben Roethlisberger on the third play in overtime, eluded defenders and dived the final few yards into the end zone for a 67-yard score. The defending Super Bowl champions (8-8) were already eliminated from playoff contention, but wanted to take the Bengals down with them.
With only three games left in the season, Cincinnati (8-8) was in position to clinch an AFC wild-card berth with one more a victory. Instead, the Bengals imploded while losing all three.
Patriots 40, Titans 23
Nashville, Tenn. - Corey Dillon ran for two touchdowns, and Tom Brady threw for a TD as New England stopped the Titans' magical run at NFL history.
The Titans (8-8) had won six straight games and needed to beat New England and hope Jacksonville, Cincinnati and Denver all lost. Jacksonville and Cincinnati did just that.
But the Patriots (12-4) wanted as much momentum for themselves before hosting a wild-card game next weekend, so coach Bill Belichick played Brady three quarters.
Panthers 31, Saints 21
New Orleans - The Saints chose to play for a healthy playoff roster rather than one more inconsequential victory.
Drew Brees played only one full series and led a scoring drive that ended with Reggie Bush's short touchdown run that put New Orleans (10-6) up 7-0.
Carolina (8-8) got back starting quarterback Jake Delhomme from a thumb injury that kept him out for three games. Delhomme was 23-of-27 for 207 yards and a pair of touchdowns to Steve Smith.
Seahawks 23, Bucs 7
Tampa, Fla. - Riding a three-game losing streak, the Seahawks hardly were in a position to rest for the playoffs. Shaun Alexander ran for one touchdown, and Matt Hasselbeck threw for a second, bolstering the defending NFC champions' confidence heading into the postseason.
The Seahawks (9-7) had clinched the NFC West title, assuring themselves of starting the playoffs with a home game. But coach Mike Holmgren felt it was important to play well and ease some of the sting from the team's puzzling three-game slide.
Rams 41, Vikings 21
Minneapolis - Steven Jackson had a career-high four touchdowns and 166 yards from scrimmage, helping the Rams finish the year 8-8.
With his team leading 34-7 early in the fourth quarter, Jackson raced up the left sideline for a 59-yard score.
Former Kansas University standout Charles Gordon started at cornerback for the Vikings and recorded seven tackles.
Texans 14, Browns 6
Houston - Houston was outgained 306 to 177 yards, but got a win over Cleveland (4-12) thanks to several costly errors by the Browns.
The victory gives the Texans (6-10) back-to-back wins for the first time since 2004 and marks the first time Houston has won a season finale. It also triples its win total from last year's dismal season.
Chargers 27, Cardinals 20
San Diego - Philip Rivers threw two touchdown passes after injuring his right foot, and LaDainian Tomlinson also limped off after wrapping up his first NFL rushing title. The Chargers (14-2) clinched home-field advantage throughout the AFC playoffs. The exact injuries weren't disclosed.
San Diego heads into the playoffs with a 10-game winning streak and its first perfect home record since 1963.
Ravens 19, Bills 7
Baltimore - Using a stellar performance from the defense and an efficient effort from the offense, the Ravens earned the No. 2 seed in the AFC and a first-round bye in the playoffs.
Chris McAlister returned an interception 31 yards for a touchdown, and the Ravens yielded only 39 yards rushing to put a pretty bow on the finest regular season in franchise history. Baltimore (13-3) will enter the playoffs with a four-game winning streak and nine wins in its last 10 games.
Matt Stover kicked four field goals for Baltimore, which didn't score a touchdown on offense - and didn't need one. That's because the defense carried the day, just as it did in 2000 when the Ravens marched to their lone Super Bowl title.
Eagles 24, Falcons 17
Philadelphia - The Eagles (10-6) clinched the NFC East title earlier when Dallas lost. So, coach Andy Reid pulled his starters to keep them healthy for Sunday's first-round matchup against the New York Giants (8-8).
A.J. Feeley threw for a career-best 321 yards and three touchdowns to help the Eagles win their fifth straight game without Donovan McNabb. The Falcons (7-9) played almost the entire second half without Michael Vick, who sprained his right ankle on the first play of the third quarter.
Colts 27, Dolphins 22
Indianapolis - Peyton Manning threw two touchdowns, ran for another and watched his maligned defense limit Miami to five field goals before giving up a late touchdown.
Indianapolis (12-4) will host a wild-card game next week after blowing a chance to earn either of the AFC's top two seeds by losing four times in the previous six weeks. The Colts still completed their first perfect season at home since 1958, when the Baltimore Colts won the NFL championship.
Packers 26, Bears 7
Chicago - Brett Favre had his way. Rex Grossman looked lost, and the Bears bore little resemblance to a No. 1 playoff seed.
Favre showed he still has some ammo left in that gunslinging right arm, passing for 285 yards to lead the Green Bay Packers to victory.
The three-time MVP completed 19 of 40 passes with a touchdown and interception in what could be his last game. He had 209 yards in the first half alone as the Packers grabbed a 23-0 lead.
Grossman, simply, was awful.
Copyright 2018 The Associated Press. All rights reserved. This material may not be published, broadcast, rewritten or redistributed. We strive to uphold our values for every story published.