Knoxville, Tenn. — Everything fell into place for Tennessee.
Super Bowl MVP Peyton Manning talked to the Volunteers before they took the court against No. 5 Florida. Then, Lady Vols coach Pat Summitt belted out "Rocky Top" while wearing a cheerleader uniform during a timeout, and a near-capacity Thompson-Boling Arena also included football coach Phillip Fulmer.
And in the game, Tennessee stunned the Gators with a big first-half run en route to an 86-76 victory Tuesday night to finish 16-0 at home.
Chris Lofton scored 21 points while JaJuan Smith added 16 points for Tennessee (21-9, 9-6 Southeastern Conference), and Ramar Smith and Dane Bradshaw each had 10 points.
The Gators (25-5, 12-3) continued a troubling trend for the defending national champions, who have lost three of four after a 17-game winning streak. Their chances for a No. 1 seed in the NCAA Tournament are likely slipping away after easily wrapping up the SEC regular-season title last week.
Al Horford led Florida with 17 points while Chris Richard and Corey Brewer had 12 apiece. Joakim Noah added 11 rebounds, and Horford had 10.
But this was the Vols' night.
"We pulled everything out for this one," coach Bruce Pearl said.
"You've got coach Fulmer behind the bench. You've got coach Summitt and the Lady Vols staff out there in a timeout. You've got Peyton Manning. Pretty strong family. How can you lose when you have that kind of family?"
Manning, the former Tennessee star, told the team to trust their teammates, a lesson he learned this season.
"You've got to rely on each other. I thought our team trusted one another tonight," Pearl said.
The Vols dominated Florida until the Gators started making a run late in the second half.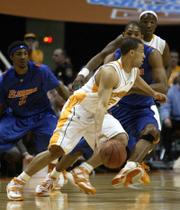 Tennessee had a 17-0 run in the first half and were ahead by 19 points at halftime and as many as 27 in the second half.
The Vols were leading 65-40 with 11:54 left when Florida had a 14-2 run that included eight points by Noah. His dunk with 9:22 remaining cut it to 67-54.
Tennessee scored again, but the Gators answered with a 7-0 run to pull to 69-61 with 6:08 to go. A drive by Lofton started a 6-0 run for the Vols, and the Gators couldn't get any closer.
No. 12 Pittsburgh 80, West Virginia 66
Pittsburgh - Aaron Gray and Levon Kendall wore down West Virginia with their inside scoring and rebounding, and Pittsburgh remained in contention for the Big East title.
Gray, hampered by a badly sprained ankle for 10 days and not much of a factor in a 61-53 loss at now-No. 9 Georgetown on Saturday, keyed a 9-0 run at the start of the second half that reversed a three-point halftime deficit and made it 38-32. Gray scored the first four points of a run finished off by Levance Fields' three-pointer.
BYU 62, No. 25 Air Force 58
Air Force Academy, Colo. - Austin Ainge scored 14 points, and Keena Young added 12 - including eight straight in a pivotal second-half run - as Brigham Young beat Air Force to assure the Cougars at least a share of the Mountain West Conference title.
Copyright 2018 The Associated Press. All rights reserved. This material may not be published, broadcast, rewritten or redistributed. We strive to uphold our values for every story published.