Baghdad, Iraq — Police and Iraqi state television said a car bomb exploded Tuesday near a park popular with young soccer players, killing at least 18 boys in Ramadi, a city west of Baghdad.
However, the U.S. military said 30 civilians and one Iraqi soldier were injured in a "controlled detonation" of explosives southeast of Ramadi but there were no deaths. The military routinely blows up captured weapons and ammunition.
It was unclear whether there were two blasts or confusion over the casualties from a single explosion.
Both local police and state television said the bomb-rigged car blew apart Tuesday afternoon while the boys, aged 10-15, were playing in Ramadi, an insurgent stronghold about 70 miles west of Baghdad.
The Interior Ministry did not immediately return calls for details.
In Baghdad on Tuesday, at least 10 people were killed in bombings amid a security operation launched this month targeting militant factions and sectarian death squads that have ruled the capital's streets.
As part of the sweeps, U.S. and Iraqi forces staged raids in Baghdad's main Shiite militant stronghold, making politically sensitive forays into areas loyal to radical cleric Muqtada al-Sadr.
Al-Sadr withdrew his Mahdi Army militia from checkpoints and bases under intense government pressure to let the neighbor-by-neighbor security sweeps move ahead. But Prime Minister Nouri al-Maliki and others have opposed extensive U.S.-led patrols through Sadr City, fearing a violent backlash could derail the security effort.
The pre-dawn raids appeared to highlight a strategy of pinpoint strikes in Sadr City rather than the flood of soldiers sent into some Sunni districts.
At least 16 people were arrested after U.S.-Iraqi commandos - using concussion grenades - stormed six homes, police said.
The U.S. military statement said the raids targeted "the leadership of several rogue" Mahdi Army cells that "direct and perpetrate sectarian murder" - an apparent reference to Shiite gangs accused of carrying out execution-style slayings and torture on Sunni rivals.
"My sons and wife were very terrified," complained Muhand Mihbas, 30, who said his brother and six cousins were taken in the sweeps. "Does the security plan mean arresting innocent people and scaring civilians at night?"
At a news conference, the Pentagon's No. 2 commander in Iraq, Lt. Gen. Ray Odierno, declined to comment on whether there were special tactics for Sadr City.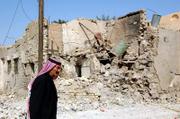 "We will go after anyone who we feel is working against the government of Iraq," he said.
U.S. military spokesman Maj. Gen. William Caldwell told Al-Arabiya television that forces "will increase our operations in the coming days," but noted that the security crackdown in the capital should continue until at least October.
Added Odierno: "We will keep at this until the people feel safe in their neighborhoods."
A roadside bomb southwest of the capital killed three U.S. soldiers assigned to a unit based in Baghdad, the military said. A fourth soldier was killed near Diwaniyah, a mostly Shiite town 80 miles south of Baghdad.
Bombings continued to strike across central Baghdad, including a suicide attack in an area filled with restaurants and ice cream parlors that killed at least five people.
In the Wassit province, southeast of Baghdad, Iraqi forces engaged in intense fighting with suspected Sunni insurgents along a key highway, police said. Near the northern city of Mosul, a suicide bomber struck a factory, killing at least four people.
A separate suicide car bombing in Mosul killed at least six policemen and injured 38 police and civilians, said police said police Col. Aidan al-Jubouri.
Iraqi authorities, meanwhile, arrested a suspect in the attempted assassination of Shiite Vice President Adel Abdul-Mahdi, an aide said.
The aide said the arrest was made after reviewing security camera video from Monday's blast, which ripped through an awards ceremony at the ministry of public works and killed at least 10 people. Abdul-Mahdi was injured.
The aide spoke on condition of anonymity because he was not authorized to brief the media.
The bomb was planted under a chair in the first row of the meeting hall - about six feet from the vice president, the aide said. Police initially thought the bomb was hidden under a speakers' podium.
"Investigations are being done to figure out how the attack was planned," Abdul-Mahdi told Furat television. Abdul-Mahdi is one of two vice presidents. The other is Sunni.
And in the southern Qadisiya province, Iraqi security forces said they captured 157 suspects linked to a shadowy armed cell called the Soldiers of Heaven, or Jund al-Samaa.
Copyright 2018 The Associated Press. All rights reserved. This material may not be published, broadcast, rewritten or redistributed. We strive to uphold our values for every story published.