To the casual observer, the food at Campus Hideaway Roll Cafe might seem similar to the food at other Asian restaurants in Lawrence.
After all, most of the menu items include rice, a few include noodles, and most are heavy on vegetables.
But there are differences between Lawrence's only Korean restaurant and restaurants representing other Asian countries.
"It's none of the extremes," SungKwon Cho says of Korean food. "It's in the middle. If you eat it more and more, you start noticing the little flavors."
Cho's stepmother, HyunJim Kim, opened Campus Hideaway Roll Cafe last year at 1119 Mass. With its addition, the Lawrence market now has restaurants with menus from every major Asian country known for its food - China, Japan, Thailand, Vietnam and Korea. Also, Zen Zero Restaurant, 811 Mass., serves food from Nepal and Tibet, among other countries.
While there is great overlap among some of the foods from different Asian countries, there are distinctions that make each stand out.
"There are similarities," says Subarna Bhattachan, who owns Zen Zero. "They all eat rice, noodles and curries in one form or another. But they've all adapted that to their own environment, and adapted it to their own tastes."
That's the case with the Korean food at Campus Hideaway Roll Cafe. Owner Kim says Koreans don't typically use a lot of sauces or flavoring in their food, leaving the natural flavors to stand out.
"Korean food doesn't use lots of oils," she says. "We might use a little vegetable oil or sesame oil. It's a healthy food."
One of the signature Korean dishes on the Campus Hideaway menu is bibimbap, which is rice mixed with vegetables, beef and a fried egg. Another is bulgogi, which is a beef rice bowl.
In some ways, Korean food is similar to the food of Japan. One similarity is the focus on presentation.
"Japanese chefs like to think about giving life to the ingredients," says Eric Rath, an associate professor of history at Kansas University who studies the history of Japanese food. "They make the taste come alive. With that in mind, they don't use a lot of heavy sauces. They use very light types of sauces. The emphasis is trying to get the best taste you can out of the ingredient."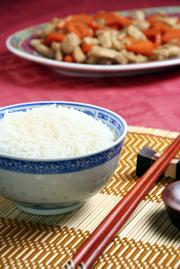 Rath says Japanese food typically uses less beef and is less spicy than Korean food.
But he notes that's changing as time goes on. People in Japan didn't eat much meat at all until the 19th century. And now even Americans are mimicking Japanese foods that have been re-imported to Japan - the California sushi roll would be the prime example of that.
"I think all these food ways are changing and evolving in different ways," Rath says.
Bhattachan, whose Zen Zero restaurant serves food from Vietnam, Japan, Thailand, Tibet and Nepal, says most customers probably don't know which country's food they're ordering when they come in for lunch or dinner.
"In the menu, we don't point out which is from where," he says. "We've been here four and a half years. Most people know what they like. We usually go by heat - we steer them according to the heat rather than the particular country."
He says Thai food's reputation for being spicier than that of other countries is generally true. But he says food from Nepal - which tends to be a closer match to Indian food - also can be spicy.
And much of it's based on personal preference, rather than the country in general.
Thailand uses a lot of curry paste, Bhattachan says. Other typical Thai ingredients include lemon grass, wild ginger and galangal, another herb that tastes similar to ginger.
Meanwhile, Vietnam was once a French colony, and some of its food represents that. French baguettes are sometimes used with stews prepared there.
Typical ingredients for Vietnamese food include fish sauce or hoisin sauce, a dark barbecue sauce made primarily from soy.
And Tibetan food tends to use more meat than the cuisines of other Asian nations, Bhattachan says, because of the sparse vegetation in Tibet.
As time goes on, Bhattachan says he thinks there will be less distinction among the foods of Asian countries.
"We've all heard of fusion cuisine restaurants," he says. "That's just due to the globalization and the mass media. I think that's probably the normal trend."
Where to try it
Here are some of the restaurants in Lawrence where you can eat food from different Asian countries:Chinese - China House, 4821 W. Sixth St.; Imperial Garden, 2907 W. Sixth St.; Jade Garden, 1410 Kasold Drive; Jade Mongolian Barbecue, 1511 W. 23rd St.; Jin Shan Buffet, 1800 E. 23rd St. (also Japanese); King Buffet, 1601 W. 23rd St.; Panda Garden, 1500 W. Sixth St. (also Thai); Peking Taste, 2210 Iowa; Plum Tree, 2620 Iowa (also Thai); TryYaki, 701 W. 23rd St.; Royal Peking, 711 W. 23rd St.Thailand - Thai House, 724 Mass.; Thai Siam, 601 Kasold Drive (also Chinese)Japan - Cafe Beautiful, 728 1/2 Mass.; Kokoro, 601 Kasold Drive; Wa, 740 Mass.; Yokohama, 1730 W. 23rd St.Korea - Campus Hideaway Roll Cafe, 1119 Mass.Vietnam - The Orient, 1006 Mass.Various - Scarlet Orchid, 2223 La.; Zen Zero, 811 Mass.
Copyright 2017 The Lawrence Journal-World. All rights reserved. This material may not be published, broadcast, rewritten or redistributed. We strive to uphold our values for every story published.