-->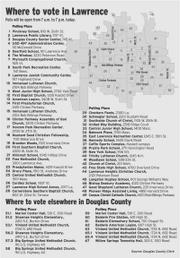 Other races
¢ In Eudora, voters won't be heading to the polls today. Not enough candidates filed to force a primary election.¢ But in Baldwin City, voters will narrow the field in the City Council and school board races.¢ Outside Douglas County, today's ballot will feature races for two school board seats in Tonganoxie; City Council positions in McLouth; and one school board seat each in the Basehor-Linwood, Perry-Lecompton and De Soto school districts.
City commission race 2007
City commission race
Get out the chopping block.
Lawrence voters today will head to the polls to cut the number of Lawrence City Commission candidates from nine to six.
One of the larger questions, though, is how many Lawrence residents will do the chopping. Two years ago, during the last City Commission primary, just 16 percent of voters went to the polls.
Count Mike Cullen as one who will leave the job to someone else.
"I think voting is real important, but I just can't separate all these candidates to know what they believe in," said Cullen, who was in downtown Lawrence on Monday.
Douglas County Clerk Jamie Shew is predicting 25 percent voter turnout today, when polls will be open from 7 a.m. to 7 p.m. Voters in the City Commission race will be able to choose three of the nine candidates. The six top vote-winners will advance to the April 3 general election.
Shew conceded his turnout prediction may be optimistic.
"I'm always hoping for a fabulous turnout," Shew said. "But we have had people calling the office asking whether there is an election (today)."
Shew said about 800 residents participated in advance voting, with about half that total coming in the last couple of days as candidates have increased their campaign advertising. There are approximately 66,000 registered voters in Lawrence, Shew said.
High-profile issues
The election is the first step in determining who will be deciding several high-profile city issues, including the fate of a proposed $30 million downtown library, whether the city should purchase the vacant Farmland Industries property to use as a business park, the appropriateness of large new retail development on the edge of the community and requests for increased funding for homeless services.
Whether city residents understand the importance of the issues is an open question, some residents said Monday.
"I think the reason the turnout is low is because people aren't aware of how important the roles of city commissioners and these other local positions are," said Julie Alley, who does not plan to vote today, in part because she only moved to the community four months ago.
Through the years, there also has been speculation that low voter turnout in the city races is a byproduct of a large number of commuters who find it difficult to get to the polls while they're open, or that the city's voter rolls are inflated by Kansas University students who register to vote in national elections but don't intend to vote in local races.
Bonnie Johnson, an assistant professor in urban planning at KU who has a doctorate in political science, said the issue might have more to do with the city's system.
"Political science theory would say that our low voter turnout is because we have nonpartisan elections," Johnson said, referring to the fact that City Commission candidates do not run under Republican or Democratic designations. "Most voters use political party labels as a shortcut to figure out who to vote for. Without them, you have to do some research.
"You have to figure out who the candidates are, who contributes to their campaigns, what they really stand for."
Johnson said the city might be able to increase voter turnout by going to a party system or implementing a district system, where a candidate must live in a certain part of town to run for a particular seat.
But those changes could have drawbacks too, she said. The district system might make City Commission elections more narrow in scope, and the party system might introduce the "political bickering" that people say they hate about national elections.
Take a stand
Some voters Monday also said they weren't looking for changes to the process, but instead urged residents to change their mindset about voting.
"I don't think voting is ever work," said Jim Parente, a Lawrence resident who plans to vote today. "It is exciting to be able to vote. I don't know that I always make the right choice, but it is always exciting to be a person who is making the decision."
The City Commission candidates are incumbents Boog Highberger and David Schauner and challengers James Bush, Rob Chestnut, Jake Davis, Mike Dever, Sam Fields, Michael Limburg and Carey Maynard-Moody.
There is no primary for the Lawrence school board. Voters will elect new school board members April 3.
Copyright 2018 The Lawrence Journal-World. All rights reserved. This material may not be published, broadcast, rewritten or redistributed. We strive to uphold our values for every story published.