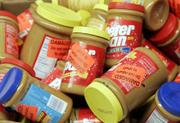 Washington — The federal agency that's been front and center in warning the public about tainted spinach and contaminated peanut butter is conducting just half the food safety inspections it did three years ago.
The cuts by the Food and Drug Administration come despite a barrage of high-profile food recalls.
"We have a food-safety crisis on the horizon," said Michael Doyle, director of the Center for Food Safety at the University of Georgia.
Between 2003 and 2006, FDA food safety inspections dropped 47 percent, according to a database analysis of federal records by The Associated Press.
That's not all that's dropping at the FDA in terms of food safety. The analysis also shows:
¢ There are 12 percent fewer FDA employees in field offices who concentrate on food issues.
¢ Safety tests for U.S.-produced food have dropped nearly 75 percent, from 9,748 in 2003 to 2,455 last year, according to the agency's own statistics.
After the Sept. 11, 2001, attacks, the FDA, at the urging of Congress, increased the number of food inspectors and inspections amid fears that the nation's food system was vulnerable to terrorists. Inspectors and inspections spiked in 2003, but now both have fallen enough to erase the gains.
"The only difference is now it's worse because there are more inspections to do - more facilities - and more food coming into America, which requires more inspections," said Tommy Thompson, who as secretary of the Department of Health and Human Services pushed to increase the numbers. He's now part of a coalition lobbying to turn around several years of stagnant spending.
The Bush administration's budget request for 2008 includes an additional $10.6 million for food safety at the FDA; the lobbying group said 10 times that increase is needed. Even though the FDA increased its overall spending on food between 2003 and 2006, those increases failed to keep pace with rising personnel costs.
"It's not just outsiders like us who have been watching it for a while. People who worked in the Bush administration are coming out and saying the agency is not working at its current resource levels. It just can't manage the job," said Caroline Smith DeWaal, director of food safety at the Center for Science in the Public Interest, an advocacy group.
Members of Congress also have renewed the focus on the safety of the nation's food supply amid highly publicized recalls sparked by food poisoning, including last year when E. coli was found to taint fresh spinach sold coast to coast. That outbreak killed three people and sickened nearly 200.
The latest big recall involves peanut butter believed tainted with salmonella, a bacterium found in feces that can cause severe diarrhea. The outbreak has sickened at least 329 people in 41 states since August, federal health officials say.
Food safety experts say it would be impossible to know whether increased numbers of inspectors and inspections would have prevented the outbreak, linked to Peter Pan and Great Value brands made by ConAgra Foods Inc., or other recent food poisoning scares.
The FDA had last inspected ConAgra's peanut butter plant in Sylvester, Ga., in February 2005 and had found no problems, agency spokesman Michael Herndon said.
Firms that produce high-risk foods more susceptible to contamination, such as fresh fruit and vegetables, are supposed to be inspected every year, unless they have a good safety record. Then inspections are done every two or three years, Herndon said.
For other foods, the FDA rotates inspections.
Copyright 2018 The Associated Press. All rights reserved. This material may not be published, broadcast, rewritten or redistributed. We strive to uphold our values for every story published.