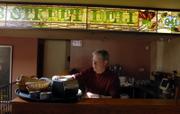 Pier 1 Imports to close store by April 15
Pier 1 Imports is closing its Lawrence store on South Iowa Street.
The company store, at 3211 Iowa, is set to close by April 15. The end could come sooner, a manager said, if all of the shop's merchandise is sold out earlier.
Phone messages left Monday with officials at Pier 1's corporate headquarters in Fort Worth, Texas, were not returned Monday.
Pier 1 came to Lawrence in 1976, operating in the 700 block of Massachusetts Street until moving in November 1999 to the larger, newer building in the shopping area anchored by Super Target.
Bob Schumm watched casual-dining competition heat up and consumer spending cool down.
Now he's pulling the plug on Mass. Street Deli, the restaurant he opened 34 years ago at 941 Mass. and expanded twice, including a stretch onto and above the sidewalk.
The deli closed Monday.
"The only thing I was disappointed in was we never won a national championship when we had the balcony up there," said Schumm, whose restaurant expansion added a small outdoor seating area upstairs. "I was hoping to sit on my balcony and root for my Jayhawks when they drove by."
While Kansas University men's basketball team remains alive and well in the chase for an NCAA title this year, Schumm conceded that the competition he faced for discretionary spending in Lawrence simply had become too tough.
When a buyer surfaced for his building, Schumm agreed to sell. The transaction - to an undisclosed buyer with plans for a different restaurant - is scheduled to close Wednesday.
The deli's closing puts about 30 people out of work, although some are being offered the opportunity to transfer to Schumm's other downtown restaurant, Buffalo Bob's Smokehouse.
Buffalo Bob's will remain open at 719 Mass., Schumm said, and he's busy considering options for bolstering that business, which he launched in 1977 and includes a catering operation.
Among the options: expanding into a vacant, two-story building next door that Schumm renovated in 2004 but has been unable to lease.
"That might be a possibility," Schumm said.
The deli's closing comes after Qdoba Mexican Grill closed its nearby storefront last month at 10th and Massachusetts streets. The former West Side Deli also recently moved to downtown Lawrence, expanding both space and offerings as it relocated and renamed itself to reflect its New Hampshire Street address.
From burritos to pitas to burgers and other casual fare, Schumm said, downtown dining is as competitive as ever and Lawrence residents are spending less than expected when it comes to eating out.
"The market is very, very crowded," Schumm said. "There are a number of restaurants that have opened, and the sales tax revenue is down. It's a very, very difficult market."
Schumm's 1994 expansion and remodeling project added a second floor to the deli and included construction of the upstairs balcony and a first-floor cafe, which allowed the deli's front doors to open out onto the sidewalk. It was at the urging of Schumm, a former Lawrence mayor, that Lawrence city commissioners agreed to grant permits to restaurants wanting to provide sidewalk dining.
Schumm long has considered Massachusetts Street to be the premier community thoroughfare, and he's still looking forward to a reprise of the national-championship parade that he rode in as mayor in 1988.
"Now I'll just have to use the balcony that's down by my office," he said.
Copyright 2018 The Lawrence Journal-World. All rights reserved. This material may not be published, broadcast, rewritten or redistributed. We strive to uphold our values for every story published.