Photo Gallery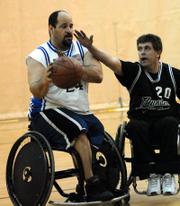 Wheelhawks
What Drew Ravnikar calls a setback is what another person might call a major life-changing event.
"I had a double amputation that set me back a little," Ravnikar said Saturday night at the Student Fitness Recreation Center.
The 20-year-old lost the lower portion of both his legs in September from spina bifida, a birth defect that affects the spinal cord.
But he says he won't let that keep him from his goal of playing basketball in the 2008 Paralympic Games in Beijing.
"Because of my setback, if I don't make it in '08, I'll keep trying for 2012," Ravnikar said.
"Adidas has a saying, 'Impossible is nothing.' I live by it."
So too do the others he plays wheelchair basketball with as a member of the Kansas Wheelhawks.
They played their Midwest Conference rivals, the Kansas City Thunder, Saturday night following the Kansas Jayhawks' defeat of the Iowa State Cyclones in men's basketball.
Like KU did to Iowa State, the Wheelhawks - fashioned in uniforms resembling the Jayhawks' - drubbed the Thunder, 66-34.
But there was a sense that the score didn't mean much to the players Saturday night.
"It's a true passion," said Ravnikar, a member of the team for three years. "It's one thing I can do that keeps me in shape."
His teammate, Jim Kesler, has participated in wheelchair basketball for 13 years.
He got started a couple years after losing his left leg to bone cancer.
Having never played basketball before - he played football in high school - playing forward for the Wheelhawks is a way for him to do something competitively with others who live with a disability like his.
"I guess I'm probably pretty competitive," Kesler said, adding that the team is an opportunity for people with disabilities to compete in sports, "especially if you have a newly injured person. It gives them a group of people to rely on."
Wheelchair basketball is remarkably similar to regular basketball.
Players run offense, they set picks, they dribble - the ball must touch the court for every two pushes of the wheelchair.
And it's as much of a contact sport, as well.
"You get all the chairs banging around out there, people are working for position," said Jarvis Stirn, a Wheelhawk for nine years. "I think it gets people interested in the game."
It caught the attention of Emily Hunter, who watched the game with about 50 other spectators.
"It's real rigorous, they're not fooling around out there," Hunter said. "I'm really interested in the equipment, the mobility and the speed of it."
The Wheelhawks play in an organized conference of six teams from areas around the Midwest.
They practice together once a week in Lawrence.
But for Ravnikar, who hopes to play at the highest level for his sport, he practices on his own five or six times a week.
After all, he has a goal to fulfill in about a year.
"If you don't live life to its fullest," he said, "you'll never get to where you can be."
Copyright 2018 The Lawrence Journal-World. All rights reserved. This material may not be published, broadcast, rewritten or redistributed. We strive to uphold our values for every story published.