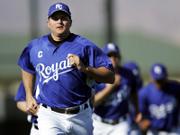 Surprise, Ariz. — A new workout regimen has Mike Sweeney hoping his back problems are finally, well, behind him.
The Kansas City Royals' designated hitter, who appeared in just 60 games last year because of a bulging disk in his upper back, turned to yoga in the offseason.
"It has paid big dividends," Sweeney said Thursday. "I've always been strong, but never flexible. I always thought yoga was for women and never applied to us macho men."
Sweeney, 33, thinks - and moves - differently now.
"It has been amazing," he said. "I can touch my toes, easily. I can touch my palms (to the floor). I was doing things over the winter that I never dreamt of. I'm hoping that three years from now, I'll look back at three healthy years.
That would be a change for Sweeney, who hasn't played in more than 126 games in a season since 2001 because of his chronically bad back.
Last year, he hit .258 - 44 points below his career average of .302 - with eight homers and 33 RBIs.
"Last year was by far the worst of my career, both physically and emotionally," Sweeney said. "It was terrible. It didn't seem like I was part of the team, being out 100 games."
Sweeney was once one of the American League's elite right-handed hitters. He batted .340 in 2002, the year after he set the Royals' team record of 144 RBIs, and hit 29 homers each in the 2000 and 2001 seasons.
"If I am healthy, I feel like I'm going to be productive, not only at the plate, but in the clubhouse," Sweeney said. "When you're on the DL, you feel like you don't have a voice anymore in the day-to-day grind."
Manager Buddy Bell has penciled in Sweeney to bat cleanup, behind Mark Teahen, who led the club with 18 home runs last season.
"Our lineup is vastly different with Mike Sweeney in the middle of it - not only his presence from a production standpoint, but his presence from a leadership standpoint," GM Dayton Moore said. "He's a great encourager. His enthusiasm, his passion to win and to play is very important to our team."
Since Sweeney signed a five-year contract extension for $55 million in 2002, the Royals have lost 100 or more games in four of the past five seasons.
"People ask me, 'Do you regret signing?'" Sweeney said. "I really don't."
He wouldn't mind feeling that he's doing more to earn the money, though.
"I would like to have a healthy year and really give back to the organization and give back to the fans," he said. "I feel indebted to the team because of my injuries the last few years."
Sweeney is in the final year of the deal, and said he hopes to continue playing when it is up.
"My heart says three or four (seasons), but let's see what my back says," he said.
Sweeney and his family traveled in November to the Vatican, where he said his children, Michael and McKara, were blessed and kissed by Pope Benedict XVI.
"I probably needed a blessing more than them. I probably should have had him kiss my back," Sweeney said with a laugh. "Growing up an Irish Catholic, my trip to Rome was the highlight of my life."
Notes: Right-handed reliever Joel Peralta was hospitalized Wednesday with flu-like symptoms. ... Another right-handed reliever, Joe Nelson, will take several days off because of a sore right shoulder. ... The Royals signed right-handers Zack Greinke and Luke Hudson and infielder Angel Sanchez to one-year contracts on Thursday. Eight players remain unsigned.
Copyright 2018 The Associated Press. All rights reserved. This material may not be published, broadcast, rewritten or redistributed. We strive to uphold our values for every story published.