EUGENE, ORE. — Freshman Tajuan Porter scored 21 points, and Aaron Brooks made a layup with 12.9 seconds left Thursday night to seal No. 23 Oregon's 64-59 victory over ninth-ranked Washington State.
The Ducks (21-7, 9-7 Pac-10) had lost three straight games and six of their last eight. The victory marked the third time Oregon has defeated a top-10 team this season.
Washington State (22-5, 11-4) had won five straight since a 77-74 overtime loss to Oregon in Pullman.
After trailing by as many as 14 points in the first half, Oregon went up 46-43 midway through the second on Bryce Taylor's three-pointer.
Washington State responded with a 9-0 run and went ahead 52-46 on Daven Harmeling's three-pointer.
Oregon closed to 55-53 on Porter's three-pointer, then went ahead on another Porter three with 3:36 left. Harmeling quickly put the Cougars back up with a dunk.
After Porter made a pair of free throws, Maarty Luenen's tip-in with under a minute left made it 60-57 for Oregon. After Taylor Rochestie scored for Washington State, Brooks' key layup put the Ducks up 62-59 with 12.9 seconds left.
Chamberlain Oguchi made a pair of free throws for Oregon for the final margin.
Porter made four of six three-pointers. Brooks finished with 16 points.
Harmeling led Washington State with 15 points. Kyle Weaver had 14.
The Ducks have won 13 straight against the Cougars and 21 of the last 22. Washington State hasn't won in Eugene since 1995.
Oregon jumped to an 8-2 lead, but the Cougars responded with a 17-0 run that made it 19-8. Washington State led by as many as 14 points in the first half.
The Ducks narrowed it to 30-25 at halftime on Luenen's three-pointer at the buzzer.
After Kyle Weaver opened the second half with a three-pointer for the Cougars, the Ducks went on an 8-0 run, capped by Porter's three-pointer, to tie it at 33.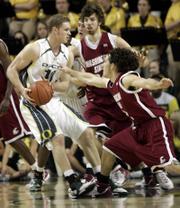 The Ducks took a 40-38 lead on Joevan Catron's layup with 15:02 left.
Oregon's record is its best after 27 games since the "Tall Firs" team that won the NCAA championship went 22-5 in 1938-39.
No. 4 UCLA 85, California 75
Los Angeles - Josh Shipp scored 22 points, and Lorenzo Mata added 14 to lead a second-half comeback in UCLA's victory over California that extended the fourth-ranked Bruins' home winning streak to 19 games.
UCLA (24-3, 13-2 Pac-10) completed a season sweep of the Golden Bears (14-13, 6-9), who had won their two previous games at Pauley Pavilion and dominated the first half.
Freshman Ryan Anderson led the Bears with 21 points, and Omar Wilkes was among three players with 10 each.
Cal led nearly the entire first half, opening with a 14-4 run for its largest lead. The Bears shot 72 percent from the field during that stretch.
The Bruins got back into the game on a 19-9 run, capped by Luc Richard Mbah a Moute's four straight points that gave UCLA its first lead of the game. The teams traded baskets before the halftime buzzer, when UCLA led 35-34.
No. 7 Memphis 99, Rice 63
Memphis, Tenn. - Willie Kemp scored 20 points to help Memphis beat Rice and clinch its second-straight Conference USA title. The victory extended Memphis' winning streak to 16 straight, longest in the nation. Memphis also has won 28 straight at home.
No. 11 Nevada 84, Idaho 68
Moscow, Idaho - Nick Fazekas scored 21 points and grabbed 14 rebounds to help Nevada defeat Idaho. Ramon Sessions added 15 points, and Marcelus Kemp 14 points as Nevada (25-2, 12-1 Western Athletic Conference) won its eighth game in a row and 18th of the past 19. The Wolf Pack have the best winning percentage in the nation.
Loyola of Chicago 75, No. 15 Butler 71
Indianapolis - Blake Schilb scored 28 points, Tracy Robinson hit five free throws in the final 36 seconds, and Loyola of Chicago held off Butler for its first victory over a ranked opponent in 21 years.
It also gave the streaking Ramblers (20-9, 10-5 Horizon League) their seventh straight win this season, their longest since 1992, and assured league-leader Wright State the top seed in the conference tournament next week.
No. 18 Duke 71, Clemson 66
Clemson, S.C. - Jon Scheyer scored 18 points to help Duke win its 21st straight over Clemson - without any late help with the game clock.
When these teams met last month at Cameron Indoor Stadium, the Blue Devils' 68-66 victory was helped when officials incorrectly added time at the end - the extra seconds more than enough for David McClure's winning layup.
Copyright 2018 The Associated Press. All rights reserved. This material may not be published, broadcast, rewritten or redistributed. We strive to uphold our values for every story published.