Angus Quigley can't pinpoint exactly when his 2006 football season was wrecked. He doesn't quite know how, and he certainly doesn't understand why.
The questions remain unanswered, but the bottom line stung nonetheless: While Kansas University's football squad was practicing as a team and playing nationally televised games in front of thousands of fans last fall, Quigley wasn't there.
He was at home in a wheelchair.
The onset of a bizarre turn in Quigley's life was way too innocent considering what soon erupted. Slated as KU's backup running back behind Jon Cornish, Quigley's thigh started bothering him during a practice one day last August. He doesn't remember what caused it, if anything.
"We have no idea," KU coach Mark Mangino said. "Angus doesn't, we don't, our medical staff doesn't."
The pain certainly wasn't enough to keep him out, but he did visit the trainer and received treatment before the next day's workout.
The treatment didn't work, as the pain continued. Then the next day, it got worse.
And then :
"I felt a small pop," Quigley said.
He simply was running when he felt it - no contact put it over the edge. He finished the practice, then went to the locker room and noticed that his thigh had swollen immensely.
"It was distorted," Mangino said. "It was way bigger than the other thigh, and he was having some pain."
At that moment, it wasn't exactly understood what was going on. But it would be a long time before Angus Quigley would be playing football again.
Grounded
Quigley was a signing-day surprise out of Cleburne, Texas. A physical running back originally thought to be heading to TCU, Kansas became his final choice on signing day in 2005. He was the only running back the Jayhawks inked that year.
He was big and fast, but Quigley wasn't needed right away. He red-shirted in 2005 and soaked in all that the older guys showed him - Clark Green's blocking and toughness, Cornish's combination of instincts and acceleration.
By the spring of 2006, Quigley was ready. His athletic ability was hard to ignore, and he spent the entire spring season working on getting his pads down to avoid big hits. He rushed for 39 yards on nine carries in the spring game, and caught an 11-yard touchdown pass from Todd Reesing - the blue team's lone score.
He was set up for what was going to be a significant role in 2006 - give Cornish an occasional break in the backfield and probably play some special teams as well.
And then it happened.
Just days after gushing his excitement at KU football media day, Quigley was the victim of one of the most unusual injuries Mangino said he ever had seen. Quigley had a severely torn muscle in his thigh. KU's team doctor, Jeff Randall, hit the phones to try to find anyone who had an idea what to do with such a case.
He found one in the NFL.
"He was directed toward a team physician for the Miami Dolphins who's considered an expert on these types of injuries," Mangino said. "He was considered the foremost authority on this type of injury as it relates to athletes."
Quigley was shown his options. He could have let the injury heal on its own, though it would have been a long process, and he "could've lost a step or two."
He didn't want to risk that. So Quigley flew to Miami and had surgery to repair the injury. When he got back to Lawrence, he was in a wheelchair for three weeks.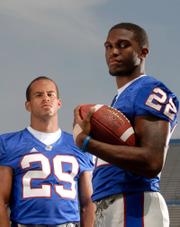 "It was no fun," Quigley said. "It gives you an appreciation for the handicapped."
Meanwhile, the Jayhawks marched forward without him, perhaps the most overlooked cruelty of such a setback.
"Your teammates practice without you, they play games without you," Mangino said. "The rehab, you're one-on-one with the strength coach or the trainer. It's kind of a lonely feeling."
Back on his feet
After moving around campus in a wheelchair for several weeks, Quigley upgraded to crutches for almost a month. He then ditched those and started walking, albeit with a noticeable limp.
He was a long way from healed, but losing the crutches meant gaining much-needed camaraderie. Once he could walk, he was able to suit up and attend practices with teammates.
"It was just good to be back out there," Quigley said. "Even though I was on the sideline."
Quigley did not take part in any practice drills as his leg slowly regained its health. He instead went through the grueling rehabilitation on his own, and with the extra time hit the weights hard to keep his body chiseled.
After coming in as a 194-pound freshman in the summer of '05, Quigley hit 230 pounds at one point this winter. He's now at 224, with plans to play at a muscular 6-foot-2, 220 by August.
"He has gained some good body strength and has gotten his weight up," Mangino said. "He really looks good."
That doesn't answer all the questions, though. Spring practices will start March 14, and it will mark the first time since Quigley's surgery seven months earlier that he will be a padded-up football player.
"I'm pretty anxious to get out there," he said.
Ready for action
It likely won't be a full-go from the start, even if Quigley is ready for it.
"It's one thing to be in the weight room and doing the running and doing the workouts for the winter program," Mangino said. "It's a whole different situation when you get out there on the field and get involved in full contact. We will be smart and ease him into spring ball."
It's been a taxing half-year for Quigley, who last played a real football game at Cleburne High in 2004.
It started with a confusing injury, and trudged forward with a grueling recovery. Quigley now banks his hopes that it soon culminates with a return to normalcy.
It's been a long time coming.
"We knew that it was going to be a tough, tedious rehabilitation for him," Mangino said. "He responded very well. He did everything that the trainers and doctors asked him to do.
"There's no question that he was frustrated a little bit. But he never let it show. He just continued to work at it and really never got down."
Copyright 2018 The Lawrence Journal-World. All rights reserved. This material may not be published, broadcast, rewritten or redistributed. We strive to uphold our values for every story published.