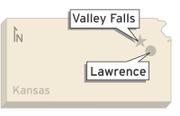 Valley Falls — Two men are dead after drowning in an apparent ice-fishing accident at a quarry near Valley Falls.
Vernon Barrow, 65, and William Slater, 55, were last seen alive at 9 a.m. Wednesday. But it wasn't until 7:30 a.m. Thursday that the Jefferson County Sheriff's office received a call that something was wrong.
Jefferson County Sheriff Roy Dunnaway said it appeared the two were fishing from a hole cut into the ice in an area once known as Baker's Quarry, less than 2 miles east of Valley Falls. The property is privately owned and used for fishing and clay shooting.
"These two guys, I'm sure, they've been around a lot of outdoor stuff," Dunnaway said. "I'm sure they thought it was thick enough."
At 8:30 a.m. Thursday, rescuers found the first body along the shore underneath the ice. Less than an hour later, rescuers pulled out the second body. Deputies estimated the water could be at least 50 feet deep.
"It's not as safe as it was two weeks ago," Dunnaway said.
The nature of the deaths left Valley Falls residents perplexed.
"Why were these men out on the ice? You know we've had 57 degree weather," Valley Falls resident Joan Richard said.
Richard's husband worked with Barrow, also known as "Red," several years ago. The two carpooled back and forth when they worked at Goodyear.
"Everybody is in shock," Richard said.
The Jefferson County Sheriff's Office has not determined the exact time of death.
Copyright 2018 The Lawrence Journal-World. All rights reserved. This material may not be published, broadcast, rewritten or redistributed. We strive to uphold our values for every story published.