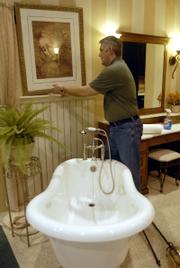 After a year of his industry grappling with lingering listings, sluggish sales and mounting inventory, home builder Sid Ziegler is looking forward to today with a little extra pep in his step.
This morning he'll close the sale of yet another one of his houses in his Knollbrook subdivision, and by this evening he'll be celebrating the grand opening of the seventh annual Lawrence Home Show.
Times, he says, are good.
"My true gut feeling on the market is that we had a temporary lapse last year because of the high gas prices," said Ziegler, whose Ziegler Corp. builds about 20 homes annually. "People were afraid of jumping into the market. Now that that's kind of behind us, people will get serious about buying. It doesn't seem to be that much of an issue anymore.
"My year's looking good. : It's nice and promising."
With mortgage interest rates still attractive, plenty of new homes on the market and contractors often hungry for work, organizers of this year's home show say that visitors will have numerous opportunities to make the most of their money.
More than 60 exhibitors - bankers, Realtors, builders, suppliers, remodelers and others - are lined up for the event, which starts tonight and runs through Sunday at First Serve Tennis Center, 5200 Clinton Parkway. The show is sponsored by the Lawrence Home Builders Association.
Ziegler, the association's president, is participating in the show for the first time. He will share a booth with a Realtor and a mortgage specialist to help give potential home buyers what he considers a low-key, no-pressure resource for real estate information.
Many of his colleagues in the business spent last year reassessing their business plans, drawing back on construction as consumers dialed down demand for new homes. Just last month, he said, builders took out four building permits for new homes in Lawrence, down from about 40 for a typical January.
Competition for buyers, he said, has spurred builders to focus even more on customer needs and desires, hoping to find a formula for cutting through a crowded market.
"A few years ago you'd think, 'Well, it sold last time. Let's do it again,' " Ziegler said. "Now people are being more specialized. Builders are tailoring their product a little more."
Visitors to the home show will be able to discuss such efforts with builders, suppliers, remodelers and others, he said. Exhibitors will be doing just as much listening - if not more - in their own quest to give customers what they want.
"It's market research for both the builder and the homeowner," he said. "It's good for everyone."
Show times
What: Lawrence Home Show, sponsored by the Lawrence Home Builders Association.When: 5 p.m. to 8 p.m. today, 9 a.m. to 6 p.m. Saturday and 11 a.m. to 4 p.m. Sunday.Where: First Serve Tennis Center, 5200 Clinton Parkway.Who: More than 60 exhibitors, showing off financial services, construction techniques, landscaping styles, window features, flooring options and dozens of other products, services and other items related to home upgrades, purchases or construction.Cost: $5 for adults, $4 for children. Tickets are sold at the door.
Copyright 2018 The Lawrence Journal-World. All rights reserved. This material may not be published, broadcast, rewritten or redistributed. We strive to uphold our values for every story published.