George Winston has been dubbed the "father of new age music."
For years he has done everything in his power to downplay the title.
"I've actually got a vasectomy. So I'm the father of nothing," Winston says, laughing.
"My stuff's got a harder edge to it than new age. That's meditation stuff or something. I've always said I played folk piano, like others played folk guitar."
Winston has been proving his musical virility for 35 years, first arriving in the public eye through the iconic Windham Hill label and later with his own Dancing Cat Records. He represents the rare musician who can claim to have put out three platinum and four gold records of instrumental piano music.
His material has ranged from successive albums of his own atmospheric material based on seasonal cycles to records covering The Doors and Vince Guarldi's jazz compositions for the Peanuts cartoons.
"At least 90 percent of what I do is other composers," says Winston, calling from a tour stop in Salina.
Past Event
When: Saturday, February 24, 2007, 7:30 p.m.
Where: Lied Center, 1600 Stewart Drive, KU campus, Lawrence
Cost: $28 - $34
-->
-->
"I'm always looking for tunes, from Gregorian chants through John Cage. ... I listen to extremely little music recreationally. I'm always on the prowl. But once in a while on the prowl, I'll go, 'I've got to hear that 50 times.' The key of learning a song is to listen to different versions a lot, then it gets in your head where you can just think it. It's like 'Yankee Doodle' - it's just part of you. Then you go about saying, 'How do I play it?'"
The 57-year-old pianist - who also is skilled at harmonica and Hawaiian slack-key guitar - says certain songs he comes across are easier to adapt to his distinctive style than others. He claims about half of his attempts result in failure.
"There are a lot where I go, 'Not quite.' I've got all the notes, but it's a transcription. It's not living and breathing. For it to work, I have to depend on somebody not hearing the original. It has to just work as a piano piece or guitar piece or harmonica piece," he says.
Interestingly, Winston has never heard another artist cover one of his own songs.
He says, "It really wouldn't interest me, anyway. I know me - about halfway, anyway. I'm sure somebody plays something somewhere. But I ain't looking, either."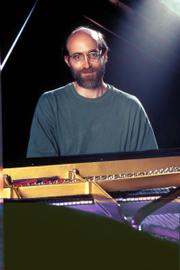 Traveling man
For Saturday's live performance, Winston is once again characterizing his material in terms of the seasons.
"I've got two shows: the winter show and the summer show," he explains. "The winter one is what I consider fall- and winter-type tunes. There'll be some of the melodic folk piano. There'll be stride piano from the Fats Waller influence - the older jazz stuff from the '20s and '30s. And there'll be New Orleans rhythm and blues piano, some from the latest 'Hurricane Relief Benefit' record."
His 2006 release, "Gulf Coast Blues & Impressions: A Hurricane Relief Benefit," followed on the heels of "Montana: A Love Story" - both of which celebrate a region of the country through geographically evocative compositions.
Despite the fact that Winston can be somewhat reclusive when it comes to issuing recordings (he's seen gaps of up to six years between projects), he is constantly touring and performing live. Winston routinely logs over 100 concerts a year.
"Each place influences what I do to some degree," he says. "One of the many reasons I go is to get another inspiration, another strand, another brick in the building. I love going to a place I haven't been, like Salina, and going to a place I have been, like Lawrence."
Winston says he loves to play Kansas because it evokes the wide open spaces of Montana, where he was raised.
"The biggest topographical inspiration for me is the Great Plains, from Eastern Montana down to Western Texas. I can explain it, and I can't. It just comes down to because it is," he says.
Audio Clips
George Winston
Lightning strikes
For a stretch in the 1990s, Winston had to bypass Lawrence because nature actually conspired against him.
"I played at (Hoch Auditorium) in the late '80s before it got hit by lightning (in 1991). I remember I had to wait to play while they built the Lied. I know that's happened in history, but I'd never heard of that happening to any venue. But this is Kansas. Lightning is Kansas' hurricane."
Winston continues to take influence in the beauty and destructiveness of nature. A stray lightning strike is just the type of event that might inspire a future album.
He says, "I think the most amazing moments in life are not documented. They come by in a second or two - a deer, a bird. That moment happens and it's gone. It's like a concert you went to that's not recorded. You go, 'Wow.' A lot of this is the state of consciousness of the observer. If you're in the right mood, a cloud is going to send you. If you're in the wrong mood, nothing is going to send you."
Copyright 2017 The Lawrence Journal-World. All rights reserved. This material may not be published, broadcast, rewritten or redistributed. We strive to uphold our values for every story published.