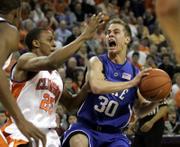 Sorry to spoil that Selection Sunday party you're planning, but the Duke Blue Devils are going to crash it. They're coming, as they do every year, no matter how much you might wish them away.
If the past few weeks in college basketball was about anything, it was about the collective desire for the Devils to disappear. How else to explain their absence from the writers' and coaches' polls, when teams with credentials as dubious as West Virginia's and Alabama's were voted into the top 25? How else to explain the roar of debate regarding whether Duke would make it to a 12th consecutive NCAA Tournament?
It all was a bit hysterical, fed by weariness of Duke's enduring success. At the time of the first hint of a public celebration, the Devils had lost two straight games by a single basket and still ranked eighth in the RPI.
Even as the losing streak grew to four games, folks inside the Duke program understood their situation wasn't hopeless, but there was no way to shut out the loud suggestions that it was.
"The guys watch other games. They watch ESPN," assistant coach Chris Collins said. "They can't help but feel a little pressure."
That is one way to look at it.
"Obviously, we know people want to see us lose, want to see us keep losing," 6-foot-10 forward Josh McRoberts says. "That gives us a little more motivation."
That is another.
By now you know Duke rescued itself from this plunge with three straight victories.
By now you also know this Duke team is likely to end the program's run of 10 consecutive NCAA Tournaments with a top-three seed. This group figured to flirt with that status as well as a trip to the Final Four in Atlanta only if McRoberts emerged as a big-time scorer, and you knew that probably wouldn't happen this season. Not having a consistent scorer has affected the Devils' ability to manufacture clutch baskets.
Among the nine guys who play, only DeMarcus Nelson is past his sophomore season. The team's freshmen, save for shooting guard Jon Scheyer, have not performed at a consistently high level. They are part of a bit of circular reasoning. Wing Gerald Henderson and power forward Lance Thomas might be more productive if protected by dominant veterans, the way North Carolina's rookies benefit from playing with Tyler Hansbrough. Of course, McRoberts, Nelson and especially point guard Greg Paulus would play better if all the Devils' freshmen were as ready as, say, Texas' D.J. Augustin and Ohio State's Mike Conley.
Despite Duke's limitations, it has persisted by becoming a gritty defensive team that stays in games by trying to out-execute and out-tough its opponent. McRoberts is a game-changing defender and prolific rebounder. Though a bit too eager to pass, he is terrific at it. The Devils can spread the court and create open shots with ball movement, which would work better if they weren't turnover-prone.
What they do well, they've done well enough to claim six top-50 victories, more than 16 of the other top 25 RPI teams - including Texas A&M;, Kansas University, Memphis and Pittsburgh.
Last week's win at BC might have been Duke's best. Of that one, Collins says, "The game plan was to just fight - don't give up an inch, anywhere."
The Devils are more accomplished than they are outstanding. But they are coming to your house in March. You can ask nicely or rudely, but they will be hard to get rid of.
Copyright 2018 The Lawrence Journal-World. All rights reserved. This material may not be published, broadcast, rewritten or redistributed. We strive to uphold our values for every story published.