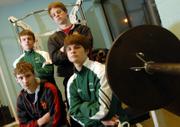 In the Bowl Championship Series, rankings are so important that only the top two teams in college football earn the right to play for a national championship. In the localized realm of high school wrestling, rankings simply don't mean that much.
"Rankings are always an arbitrary thing," Lawrence High wrestling coach Mark Dulgarian said. "When it actually comes down to it, they don't carry a whole lot of weight. By the time it gets to state, anybody can beat anybody else. It just depends on who's on that day."
Four Lawrence wrestlers are highly ranked in the Kansas Class 6A rankings. Lawrence High senior Brandon Goodwin is ranked No. 1 in the 103-pound class. Senior Zach Hertzel is ranked No. 4 in the 140-pound class. Free State freshman Koty Russell is ranked No. 2 in the 112-pound class, while senior Firebird Marc Somers is ranked No. 3 in the 140-pound class.
Goodwin and Russell said they didn't pay much attention to the high rankings. After all, you never know who Cinderella might be for the state meet today and Saturday in Valley Center.
Goodwin familiarized himself with the element of surprise when he lost his first match of the season. Goodwin currently holds 101 victories, second all-time at LHS to two-time state champion Nolan Kellerman and his 116. Goodwin's victories didn't even include his freshman year since he didn't compete at the varsity level. In other words, he's not used to losing.
"It kind of brought me back down to zero," Goodwin said of the Dec. 2 defeat. "I thought it was kind of a bogus deal because I ate too much before the match."
Goodwin hasn't had any nourishment issues since his defeat. After an 0-1 start, he's currently 34-4. He has a specialty move he referred to as the double chicken wing, which puts pressure on the opponent's shoulders and arms.
"I've had kids that have popped their shoulders out," Goodwin said. "I even had a kid who cried."
Goodwin said he gained most of his toughness from his father, Jim, who used to wrestle. It's evident Goodwin also has received much of it from Dulgarian. He jokingly challenges the coach during the day as a student in his wellness class.
"I can always cheer up coach Dulgarian," Goodwin said. "I just say, 'You wanna go, big man?' He's taken me up on a few challenges. One time I almost got him - but he manhandles me every time."
On the other side of town, Russell, ranked second in the state, carries a 27-5 record for Free State. Impressive, when you consider he's a freshman.
"I don't really think about it too much," Russell said of being ranked No. 2. "I don't want it to get to my head."
Russell has excelled on the mat this season on his feet. He said he felt faster and stronger on his feet as opposed to wrestling closer to the floor.
"He can take down just about anyone in the state," Free State coach Paul Lappin said. "Koty exudes confidence. He thinks he can beat anybody he steps on the mat with. We really encourage this attitude. You need to believe you can win each time you step on the mat."
Somers also has had an impressive season with his 39-5 record. Lappin said the senior racked up points in bundles during the season from toting opponents. Somers' blazing speed makes him a difficult matchup for wrestlers in his 140-pound weight class.
There's still room for improvement - even with Somers.
"We're working on him getting a better escape and getting back on his feet, rather than sit on the mat," Lappin said of Somers. "Most of his losses were really close, so if he gets an escape and another take-down, he's back in the lead."
As for Hertzel (20-5), the senior LHS wrestler competed at Baldwin High his freshman year. He didn't start the season at the varsity level. He won one match at state his sophomore year and then two matches at state his junior year for LHS.
"That's quick development," Dulgarian said. "Part of it is because of his drive and his spirit, and the other part of it is he's a good physical talent in terms of his strength and quickness. He doesn't have all the mat time that Brandon has, but he's a quick learner.
Dulgarian said it was nice to see the four wrestlers on the state map.
It's still not the number he'd like to see, though.
"If there are only four people ranked, then Lawrence needs to work harder," Dulgarian said. "We're hopefully a program that's working to improve."
Copyright 2018 The Lawrence Journal-World. All rights reserved. This material may not be published, broadcast, rewritten or redistributed. We strive to uphold our values for every story published.