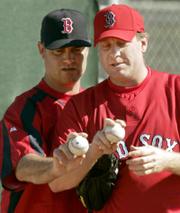 Curt Schilling is headed for free agency, Daisuke Matsuzaka is on a rigorous regimen, and Manny Ramirez plans to skip that car show.
Just another busy day at Boston Red Sox camp.
After the team declined to offer him a contract extension, Schilling said Thursday he would become a free agent following the season and wouldn't let that distract him during his fourth year with Boston.
General manager Theo Epstein, however, wouldn't rule out in-season discussions on a new deal.
At a brief meeting between the two Wednesday, Epstein told Schilling that the club would not give him an extension during spring training, as the pitcher had wished.
"Curt's going to be 41, and at that age we've got to be a little more conservative," Epstein said Thursday in Fort Myers, Fla. "It doesn't mean we don't want him back. I have all the confidence in the world that if Curt wants to pitch in 2008 and he's still pitching effectively, as I expect he will, then we'll find a way to keep him in a Red Sox uniform."
Epstein also said Schilling would be the team's opening day starter April 2 in Kansas City, and, "I couldn't be happier about that."
Schilling said he didn't warn the Red Sox that it might cost them more to sign him after the season. Even if they want to keep him, he still could leave.
"I'll consider anything at that point," he said.
Late last month, Schilling said he wanted to pitch in 2008 after stating previously that he would retire following the upcoming season. Schilling, who represents himself, also said he would play for the same amount he's making this year, $13 million, but he wouldn't negotiate after opening day.
Thursday, he said he was "disappointed," but understood the club's position. He also said he would not negotiate with the Red Sox during the 15 days following the World Series, when they are the only club allowed to discuss money with him.
"I will file for free agency at the end of the season, and they know that," Schilling said. "I'm going to get ready for opening day, and this is not going to change anything that I do or how I do it."
Boston manager Terry Francona, who also managed Schilling in Philadelphia, indicated the pitcher could alter his stance.
"He was also going to retire," Francona said. "You know what I'm saying? Things change."
Matsuzaka, perhaps the team's next ace, already is pitching with purpose. The Japanese star threw 103 pitches in his third bullpen session of spring training - an eye-opening total this early in camp.
"It's nothing out of the ordinary for me," Matsuzaka said through a translator. "I didn't speed up the pace of how I pitched, either, and I was trying to stick to what I'm used to in Japan."
Epstein said he's never seen a pitcher throw 103 pitches so early in spring training.
"He's in there 80, 90 pitches deep (and) he's still going through the stretch, still checking runners, still taking it like a real game situation," Epstein said. "Every single pitch had a purpose."
Matsuzaka, who cost the Red Sox $103 million, is scheduled to throw batting practice for the first time Saturday - the same day Ramirez had been slated to attend a car auction in New Jersey. But the enigmatic slugger changed plans and will not attend the event, the club said.
The Red Sox gave Ramirez permission to report late to camp on March 1, the day after their first exhibition game, for family reasons. The left fielder's mother recently had surgery.
Epstein said that after learning about Ramirez's scheduled appearance at the auction, he spoke Wednesday night with Greg Genske, the slugger's agent.
"He said (Ramirez) is not going to be there, so it's fine," Epstein said Thursday. "He's dealing with a family issue. We're not going to document his exact whereabouts on an hour-to-hour basis."
Epstein said he didn't think the auto show would be a distraction, "if we manage it the right way."
Red Sox president Larry Lucchino also showed little concern about Ramirez's previous plans to be at the auction.
"I think it's a stale issue," he told reporters. "You guys are making a tempest in a teapot."
Astros
At Kissimmee, Fla., Roger Clemens spent his first day at Houston Astros camp throwing pitches and hitting grounders to his son, Koby. But that's about all the baseball he feels like playing right now.
The seven-time Cy Young Award winner is no closer to deciding whether he'll play a 24th major-league season.
"Everybody knows where I stand. I don't care to play, but if that decision comes up again, then it's a big decision on me," Clemens said. "It has nothing to do with anybody else. It's a decision on me to go out and perform."
Rangers
At Surprise, Ariz., Texas Rangers reliever Eric Gagne threw 15-20 pitches in quick succession, then took a short break and did it again.
"It was good, fluid. There were some good ones, some bad ones," the record-setting closer said after a 10-minute bullpen session, his second this week. "It doesn't hurt, nothing. ... I'm probably going 50-60 percent. It went well, I'm encouraged again today."
Gagne's primary goal is to get used to being on the mound again and building arm strength after two injury-plagued seasons with the Los Angeles Dodgers.
Mets
At Port St. Lucie, Fla., Orlando Hernandez left Mets camp and returned to New York to have his sore neck examined. The 41-year-old pitcher has arthritis in his neck and will be sidelined for three or four days after receiving a cortisone shot.
El Duque, slated to be the No. 2 starter behind Tom Glavine in the Mets' suspect rotation, underwent an MRI, which did not show any disk problems, general manager Omar Minaya said.
"Everything looks well," Minaya said. "It was just good news. It was preventive, and we feel really good - especially after reviewing the MRI."
Hernandez was expected to rejoin the team today in Florida. He will rest for three or four days before resuming regular drills.
Minaya said Hernandez felt better immediately after the cortisone shot. The right-hander will undergo treatment throughout the year to manage his arthritis.
Pirates
At Bradenton, Fla., Pittsburgh Pirates outfielder Xavier Nady was released from a hospital, two days after being admitted for an inflammation of the intestine.
Nady is expected to resume limited physical activity today.
Dodgers
At Vero Beach, Fla., Los Angeles Dodgers manager Grady Little said Rafael Furcal will hit leadoff this season and Juan Pierre will follow him.
Nationals
At Viera, Fla., Washington Nationals shortstop Cristian Guzman will resume throwing today after being shut down the past three days because of mild tendinitis in his right shoulder.
Copyright 2017 The Lawrence Journal-World. All rights reserved. This material may not be published, broadcast, rewritten or redistributed. We strive to uphold our values for every story published.