Surprise, Ariz. — There will be no tardy slips, no late arrivals, no visa hold-ups. All 59 players have shown up at the Kansas City Royals' spring training camp.
"Everybody is here," Royals manager Buddy Bell said Wednesday. "That is quite unusual. That is a good sign."
Although Kansas City has lost at least 100 games in each of its last three seasons (100 losses in 2006, 106 in 2005 and 104 in 2004), Bell is optimistic about this year.
"The chemistry is good. The guys we brought in are good people, too, so it is a pretty easy group to handle," Bell said.
While the first official full-squad workout is today, the Royals have few position spots open, Bell said.
"But there's a lot of things we have to decide as far as the versatility of our guys. Where do they fit? Where are they going to play? How often are they going to play? There's a lot more decisions that we need to make this spring as opposed to last year. We've got a lot more options," he said.
Key offseason acquisitions were pitchers Gil Meche, Octavio Dotel and David Riske, all free agents. The Royals must figure out who will fill the final two rotation slots and three bullpen spots.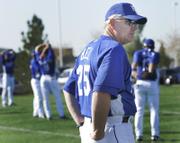 Alex Gordon, who hit .325 with 39 doubles and 29 home runs last season in the Texas League, will be given every opportunity to win the third-base job. If he has a solid spring , then Mark Teahen will move from third base to right field.
"Teahen is going to get most of his work in right field," Bell said. "Brownie (Emil Brown) is going to do all of his work in left field."
Brown, who started 48 games in right field last year, led the team with 81 RBIs.
If Teahen, Brown and David DeJesus are the starting outfielders, it's unclear what will happen with veteran outfielder Reggie Sanders, one of only six players in the majors to have 300 career home runs and 300 stolen bases. Sanders, the Opening Day right fielder last year, had knee surgery Aug. 31 and hit just .246 in 88 games.
Copyright 2018 The Associated Press. All rights reserved. This material may not be published, broadcast, rewritten or redistributed. We strive to uphold our values for every story published.