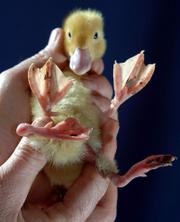 London — This round, the game might sound a little more like: "Du-duck, du-duck, goose."
A rare mutation has left Stumpy, above, an 8-day-old duckling, with two nearly full-sized legs behind the two he runs on.
Nicky Janaway, a duck farmer in New Forest, Hampshire, 95 miles southwest of London, showed the duckling to reporters Saturday.
"It was absolutely bizarre. I was thinking, 'He's got too many legs,' and I kept counting, 'one, two, three, four,'" Janaway said.
Stumpy would probably not survive in the wild, but Janaway, who runs the Warrawee Duck Farm in New Forest, says he is doing well.
"He's eating and surviving so far, and he is running about with those extra legs acting like stabilizers," Janaway said.
Copyright 2017 The Associated Press. All rights reserved. This material may not be published, broadcast, rewritten or redistributed. We strive to uphold our values for every story published.