Kris Horton, owner of K. Horton Speciality Foods, tells how the Public Market House - a new public market of four shops in Portland, Maine - works.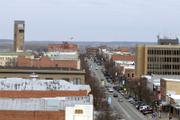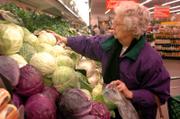 -->
Man cannot live on bread alone.
Nor on high-end cheese, deli sandwiches, European specialty foods or $8 restaurant meals.
Through a combination of bakeries, restaurants and specialty shops, downtown Lawrence offers all those food items. What it doesn't offer is a traditional grocery store to serve the growing movement of additional condos and apartments in the downtown area. But the environment may be changing somewhat, as a new Massachusetts Street business that focuses on selling organic grocery items is in the works.
More grocery options for downtown ranked high on the list of improvements that a $250,000 team of consultants hired by the city presented to the community earlier this month. The PlaceMakers consulting group said a downtown grocery store would go a long way toward making the downtown the type of old-style traditional neighborhood that many people have been longing for in the city.
But members of the city's development and grocery industries this week said that figuring out how to add a full-service grocery store in downtown likely will be a tough nut to crack.
"I think the idea of a downtown grocery store is a great one, but is it feasible, would it work? I don't know," said Bill Newsome, a Lawrence developer who has recruited grocery stores in the past. "There's definitely some limitation on size for one in downtown, and there's really no place for a traditional grocery store of a normal footprint to open.
"To be successful, it would have to fill some niches. Whether that is a butcher shop that is extraordinary or some specialty foods or whatever, that is what would have to happen."
New York style
A trio of young entrepreneurs is betting that the winning concept is a vegetarian/organic market. Casey Millstein, her brother Josh Millstein and recent Kansas University graduate Cassy Ainsworth confirmed this week that they're opening an organic market in the former Casbah location at 803 Mass.
"We're looking at something comparable toa New York-style market," Ainsworth said. "Something quick that you can get in and out of and meet your basic needs."
Plans call for the store - as yet unnamed - to have a vegetarian deli. Ainsworth also hopes the fact that the store will be next door to Round Corner Drug Co. and The Cheese Shop will cause downtown residents to view the Eighth and Massachusetts area as a one-stop shop for many of their daily needs.
Casey Millstein said the growing trend of new apartments and condos in downtown played a significant role in the decision to open the store, in addition to hearing complaints from eastern Lawrence residents who wanted a store closer than the Dillons near 19th and Massachusetts streets.
"It is about nine blocks from any grocery store," Millstein said of the proposed store. "All the people who live in downtown, work in downtown and people who live in eastern Lawrence were really our focus. We wanted someplace that they could go without getting in the car."
Millstein - who is the daughter of prominent downtown landlord David Millstein, who renovated Liberty Hall and owns the Casbah building - said the trio hopes to have the store open by this summer.
Thinking big
Those in the development industry will be watching to see how it works out.
"I sure hope there are enough people to make that work out because it would be great for the downtown," said Kelvin Heck, a broker with the commercial real estate firm of Grubb & Ellis/The Winbury Group. "Maybe it will be enough to satisfy the downtown need for a while."
It may not be what everyone is looking for, though. Because it is a vegetarian market, it won't have a meat counter. It also will be a fraction of the size of a traditional 60,000-square-foot grocery store. For now, Ainsworth said the store was going to be limited to the first floor of the Casbah building.
The PlaceMakers consultants were envisioning a larger project. They created a concept plan that would build a 40,000-square-foot building just south of the Pachamama's restaurant at Eighth and New Hampshire streets. It would include a parking garage.
But downtown developers don't seem to be biting on the multimillion-dollar idea. Bo Harris, a local construction executive who developed the Hobbs-Taylor Lofts at Eighth and New Hampshire streets, said he didn't see a traditional grocery store working in downtown anytime soon.
"I would love to have one, but I think the number of rooftops is the big issue," Harris said. "You have to have a certain number of residents in an area, and I don't think we're there yet."
Harris said he's not sure what the magic number of residents is, but he thinks the downtown still has a ways to go. He points to the downtown Kansas City, Mo., area. It has had three major condo and apartment developments spring up in recent years but still does not have a grocery store.
A marketplace
The PlaceMakers consultants also recognized that attracting a traditional grocery store to the downtown might be a chore. That's why they presented a Plan B as well. They said some communities are starting to turn to public markets as an alternative to grocery stores in an area.
The concept is similar to an indoor antique mall, except the booths are food-oriented. The consultants pointed to a sizable public market in Portland, Maine - a city about the same size as Lawrence - as an example of how it could work here. But calls this week to Portland revealed that the Portland Public Market closed about two years ago.
The market, though, was bustling for about eight years. It had about 25 food and wine vendors at its peak, with most businesses selling locally grown or produced products. The market, however, received support from a Portland philanthropic organization that owned the building and helped subsidize some of the operating costs, according to an Associated Press article.
Development leaders here also said they had concerns about whether such a public market could be self-supporting in Lawrence, especially because downtown real estate prices are high and the profit margin on grocery items typically is small.
But Kris Horton, one of the founding booth owners of the Portland market, said cities such as Lawrence should give the public market concept strong consideration. She said the key, though, was to start slowly.
After the Portland Public Market closed, Horton and three other booth owners opened the smaller Public Market House. It features a cheese shop, bakery, wine booth and flower shop in a 2,500-square-foot building. It also offers daily or monthly booth rentals for farmers who want to sell their produce in season, in addition to a commercial kitchen that the businesses use to produce their own packaged products.
"It is like a farmers' market, but it is just more of a commitment because it is open year-round," Horton said.
Horton said the booth owners were able to operate more economically because they share costs such as advertising, insurance and building maintenance. She said the market was growing slowly, but she thinks there will be more of them in other similar cities because it taps into a consumer trend.
"It is just an old-fashioned way of buying where the owner is on the premises most of the time," Horton said. "You have personal contact with the owner. It is very intimate, unlike the large supermarket chain.
"You just get this wonderful eclectic feel that you don't get in a supermarket," Horton said.
Copyright 2018 The Lawrence Journal-World. All rights reserved. This material may not be published, broadcast, rewritten or redistributed. We strive to uphold our values for every story published.