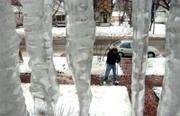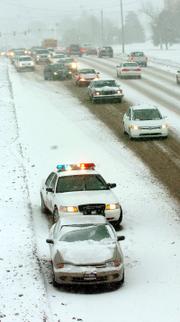 It was a slippery mess.
Just ahead of rush hour in Lawrence and Douglas County on Friday afternoon, a storm that blew snow rudely moved into the area as drivers prepared to head home for the weekend.
It moved from the northwest and dropped anywhere from 1 to 2.8 inches of snow at spots in the county from 3 p.m. to 5 p.m.
"It was a little stronger than we anticipated," said Kyle Poage, a meteorologist for the National Weather Service in Topeka. "Sometimes these systems come from the northwest, and it's hard to get a feeling for how strong they are going to be."
The storm gained strength from an upper low near South Dakota.
"Energy from the jet stream caused it to feed that pressure that formed into a bigger snow band than expected," said Jennifer Schack, 6News chief meteorologist.
Lawrence police and the Douglas County sheriff's office reported no injuries but several slide-offs and accidents as drivers negotiated the roads early Friday evening.
As strong winds continued to blow Friday night, Lawrence-Douglas County Fire & Medical crews responded to a call at 8:30 p.m. of a sand truck that rolled onto its side in the westbound lanes of Interstate 70 about 1 mile east of the Lecompton Interchange. Crews told dispatchers that one person suffered nonlife-threatening injuries.
That was the only reported injury accident in Douglas County as of 11 p.m. Friday.
Earlier that evening, sheriff's officers handled noninjury accidents on several highways and roads, including four on Kansas Highway 10, said Lt. Kari Wempe, a sheriff spokeswoman.
Just from 3 p.m. to 5 p.m., police responded to 19 noninjury accidents, including three on Iowa Street, two on Wakarusa Drive and two on Louisiana Street, said Kim Murphree, a police spokeswoman.
Friday night, dispatchers said law enforcement officers had responded to 51 noninjury accidents in the city and county.
Once the snow stopped in Lawrence, it left enough slick spots even on busier streets Friday night.
Mike Asher, a Lawrence landscaper, hauled several of his friends in his pickup truck from Rick's Place, 846 Ill., to a downtown Lawrence parking lot.
Asher said the streets were slick, but he also thought he could handle them - compared with the climate he experienced earlier this week.
"Actually I just got back from Minnesota two days ago, so this wasn't a big deal," he said.
After several brutally cold days in Lawrence, the temperature did reach 33 degrees Friday night, Schack said. Although she predicted strong winds and light snow again Friday night, relief may be on the way.
Temperatures were expected to reach 32 today, into the 40s Sunday and the 50s on Monday and Tuesday.
"A lot of melting," Schack said.
Copyright 2018 The Lawrence Journal-World. All rights reserved. This material may not be published, broadcast, rewritten or redistributed. We strive to uphold our values for every story published.