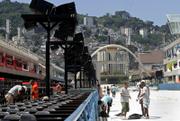 Salvador, Brazil — As the multiracial band atop a tractor-trailer launches into a frantic carnival tune, the crowd pulsing below is a kaleidoscope of skin tones, from the deepest black to the palest white and every shade in between.
Nowhere is the vision of Brazil as a racial democracy more apparent than during carnival, when millions of people black and white, rich and poor, press up against one another in an annual party that began Friday in most of the country.
But the celebrations mask tensions that simmer beneath the surface in a nation where most of the poor are descended from Africans and most of the rich mostly from Europeans.
About half of Brazilians are dark-skinned, but less than 3 percent of college graduates are, according to a Federal University of Rio de Janeiro study.
"Carnival is a moment when the rules of social engagement are suspended," said sociologist Roberto Da Matta. "Americans tend to read this literally: that there is no prejudice, no explicit rules for blacks. But there are all kinds of social distinctions, some of them very brutal."
In Rio de Janeiro, blacks often grumble about dark-skinned women being passed over in favor of light-skinned actresses for the coveted roles of featured carnival dancers.
And many complain that while the majority of the dancers in the premier carnival groups hail from the city's poor, largely black shantytowns, high ticket prices at the Sambadromo stadium, where those groups will parade Sunday and Monday nights, exclude the poor.
In Salvador, a coastal city of several million people northeast of Rio, carnival is a two-tiered system. Well-heeled revelers pay as much as $930 for the right to party inside cordoned-off areas surrounding sound trucks as they slowly rumble through the city streets.
Thousands of "cordeiros" - rope holders - are employed to wage dusk-to-dawn tugs of war to separate the paying revelers from the "pipoca" - "popcorn" - as the nonpaying masses are called.
While Salvador is more than 70 percent black, the bands that tend to parade during prime time and appear on TV are overwhelmingly white.
Valter Oliveira Leite, president of the municipal carnival council, denies racism plays a part in the scheduling that leaves the "Blocos Afros," or "African blocs," black groups featuring costumed drummers, parading during the wee hours.
"The Blocos Afros have to become more professional and create a national identity so they can sell advertising and attract more sponsors," Leite said.
Alberto Pitta, director of the group Cortejo Afro, says: "It's not true we want to parade at 1 in the morning. We can't attract sponsors at that hour."
Copyright 2018 The Associated Press. All rights reserved. This material may not be published, broadcast, rewritten or redistributed. We strive to uphold our values for every story published.