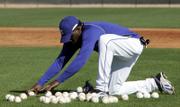 Surprise, Ariz. — After losing 100 or more games the past three seasons, the Kansas City Royals are eager to put the past behind them and look to the future.
The pitchers and catchers checked in Friday with the first formal workout today. The Royals will have 31 pitchers and seven catchers in camp.
"I'm excited," Royals manager Buddy Bell said Friday. "Of course everybody is at this time of year. We made some progress from the middle of the year on and just hope it continues. It is a long process and you've got to remember it as a long process. We're kind of impatient by nature anyway, so it is hard to do sometimes.
"I think we all should be excited. We made a lot of good additions, not only in our area, the clubhouse, but in the front office. We have a nice chemistry the way we are doing things. It is a good feel."
After losing 47 of their first 63 games last season, the Royals went 45-53. The horrid start led to the firing of general manager Allard Baird and he was replaced by Dayton Moore, who was an Atlanta Braves assistant GM, on June 8. Moore revamped the front office and the big league roster.
The Royals had a 5.65 earned run average, which was last in the majors in 2006 and the worst in franchise history.
"Pitching, it is always pitching," Bell said, pointing to the focal point of spring training.
The Royals have attempted to upgrade their pitching staff by signing free agents Gil Meche, Octavio Dotel and David Riske, acquiring Brian Bannister in a trade with the Mets, claiming reliever Ken Ray off waivers and adding left-hander John Bale, who spent the past three years pitching in Japan.
So is the pitching staff improved entering camp?
"I think so," Bell said. "We better be. I think our talent pool is thicker and is more talented."
Bell said he plans to open the season with 12 pitchers.
Two right-handers - Scott Elarton, who was the Opening Day starter last year, and Zack Day - are coming off shoulder surgery and will be rehabbing in spring training. Elarton is not expected to pitch in the majors before June, while Day will likely start the season with Class AAA Omaha. Elarton is the only member of the Royals' rotation to begin last season who is still with the organization.
Bell missed the final 10 games last year after having surgery to remove a cancerous growth near his left tonsil.
"I feel great," Bell said. "Everyday it seems like I feel a little bit better."
Bell said he lost between 35 and 40 pounds at one point.
"I've gained about 20 back," he said. "This is where I want to stay."
Copyright 2018 The Associated Press. All rights reserved. This material may not be published, broadcast, rewritten or redistributed. We strive to uphold our values for every story published.