Boulder, Colo. — Brandon Rush nearly jumped out of his seat on the team bus as it chugged down Highway 36 from Denver to Boulder early Tuesday night.
"Coach (Bill) Self was sitting there and made a loud noise. He said, 'Aaah.' I kind of figured out what it was," Rush, Kansas University's sophomore guard/forward, said Wednesday after the Jayhawks' 75-46 rout of Colorado at Coors Events Center.
That was the sound of Self receiving a text message that Texas A&M; had fallen at home to Texas Tech, meaning a KU win over Colorado would propel the Jayhawks (22-4 overall, 9-2 Big 12) into a tie for first place with the Aggies in the Big 12 race.
"I was paying attention. I got some updates on my phone, but I didn't know Tech won until that," Rush said.
The Jayhawks left little doubt they'd erase the half-game deficit in the league standings Wednesday, using the nine-point, four-assist, three-steal, 18-minute first-half effort of Russell Robinson to grab a 38-22 lead at the break.
Robinson wound up with a
season-high 14 points, while Darrell Arthur had 11 and Sasha Kaun 10 as the Jayhawks tied for the biggest road victory in the Self era. KU also beat TCU by 29 in Dallas in Self's first season.
"We were coming back on the bus, and we found out we could be tied if we beat Colorado," Kaun said after scoring all his points in the second half.
Photo Gallery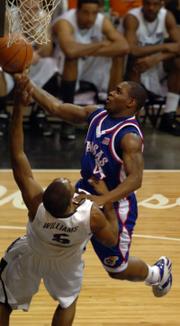 KU vs. Colorado
"It's a good feeling to be back in first place, but we have a lot of games left to play."
Self, however, cautioned the Jayhawks couldn't afford to get overconfident with Saturday's home game with Nebraska and Monday's trip to Kansas State looming.
"We are happy to be tied. You can make a case that our season starts now," Self added after his Jayhawks improved to 11-3 in league road games the past two seasons. "Nebraska is playing great, then Manhattan. We need to build off this and keep moving forward."
The Jayhawks rewarded a large contingent of fans - at least half the 6,608 spectators were KU supporters - with a blowout victory. The fans who braved a snowstorm were treated to a vicious second-half dunk off a lob from Robinson, as well as the intense 11-rebound effort by Darnell Jackson.
They serenaded the Jayhawks with the "Rock Chalk Chant" the final two minutes.
"It's amazing to me. We probably had 3,000 to 4,000 here," Self said. "It amazes me people will drive that far in this weather. At the hotel, we had people who drove in yesterday because they were afraid I-70 would be closed."
Self said junior guard Robinson was the one who set a dominant tone early on a night Richard Roby (seven points, 23 minutes) didn't start because of what coach Ricardo Patton cited as recent attitude problems.
Go figure
47.6 KU's field-goal shooting percentage27.3 Colorado's field-goal shooting percentage9 Buffaloes who played9 Buffaloes who had at least one turnover (CU had 18 total)30 Field goals by the Jayhawks22 Assists by the Jayhawks (KU had 14 assists on 15 field goals in the first half)7 Points scored by CU's Richard Roby30 Points scored by Roby in the teams' last meeting
"Russell was great defensively. He has several steals (five)," Self said. "We weren't great offensively by any means, but did a good job scoring in transition early and defended them the entire night."
Indeed, KU held the Buffs to its lowest total in a KU-CU game since 1993, when CU scored 51 in Boulder. CU's 46-point outing was its lowest of the season. The Buffs also had 46 against Air Force.
"Darnell would have had a great game if he made his free throws," Self said of Jackson, who had four points off 2-of-6 shooting, but missed all five of his charity tries to go with the 11 rebounds and two blocks.
"It was good to see him play well, Shady (Arthur, seven rebounds, 11 points) get involved and Sasha play well the second half.
"Julian (Wright, eight points), Brandon (Rush, seven points), Mario (Chalmers, seven points) and Sherron (Collins, seven points) all scored their seven or so."
KU now will prepare for its game against Nebraska, set for a 3 p.m. start Saturday at Allen Fieldhouse. Texas A&M; will travel to Oklahoma on Saturday.
"I didn't think it's happen," Self said of A&M; losing at home Tuesday. "It's a crazy sport. Anything can happen, especially in our league."
Copyright 2018 The Lawrence Journal-World. All rights reserved. This material may not be published, broadcast, rewritten or redistributed. We strive to uphold our values for every story published.